Last updated:
18 Sep 2023
This article may contain affiliate links. For details, visit our Affiliate Disclosure page.
Having an RV sewer hose is an essential part of the RV'ing experience. It allows you to properly dispose of your waste water, so you can continue your journey without any issues. A good quality RV sewer hose will be able to handle the amount of waste you produce, while also being easy to use and store. It's important to choose a hose that is durable, leak-proof, and flexible enough to navigate around obstacles. With the right RV sewer hose, you can enjoy the convenience of home while on the road.
Equipped with sinks, toilets, and showers, many RVs provide all the comforts of a real home. The RV wastewater contained in the large tanks is usually drained into the sewer system with a flexible plastic hose. However, when installed for long-term RV camping or park living, the black tank can be permanently connected to the sewer system.
Proper maintenance of your RV's sewer hose is crucial for a hassle-free camping experience. You need to ensure that the hose is reliable, durable, and can handle the task without any leaks or issues. No one wants a sewer hose that fails or causes a mess, especially during an emergency. It's important to find the best RV sewer hose for your needs, so you can confidently handle the dirty job when it's time to empty the tanks. Keep in mind that there are many options available, and choosing the right one can be challenging, but it's worth the effort to avoid any unpleasant surprises.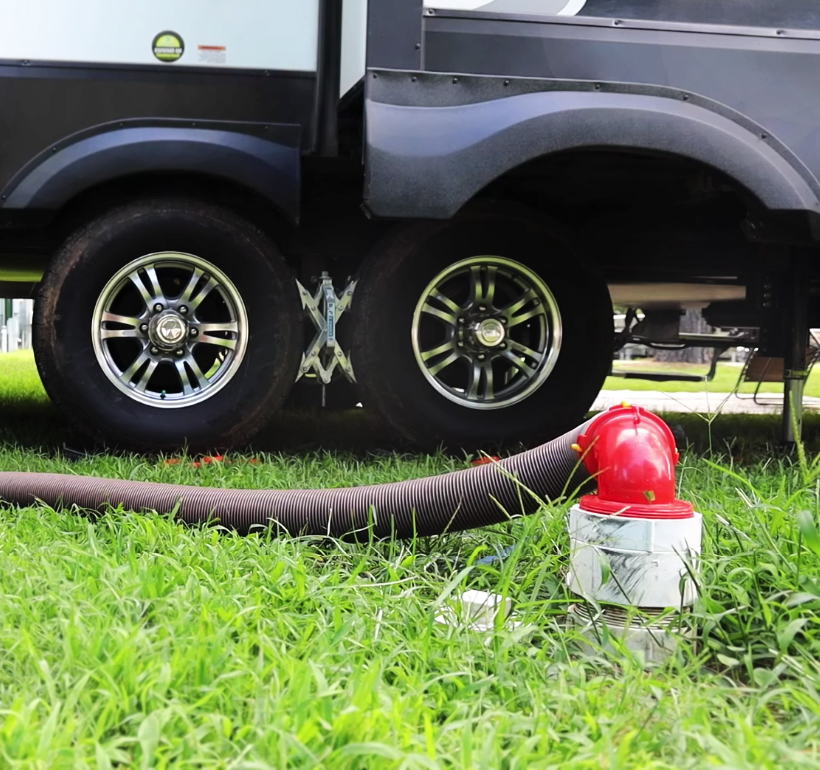 With tons of RV sewer hose kits obtainable on the market today, you need to be meticulous about finding the right one. For your convenience, this review presents the best RV sewer hoses. In addition to that, the comprehensive Buyers Guide and the most-awaited FAQs will serve as bonus content. So don't miss out on them!
We understand that it can be a daunting task to find the best RV sewer hose, especially if you're new to RVing and not familiar with the different types and features of sewer hose kits. However, we are here to help make the process easier for you by providing a detailed review of some of the top RV sewer hoses available on the market.
---
Best RV Sewer Hose Reviews
1. Camco RhinoFLEX – RV Sewer Hose Kit
Best Choice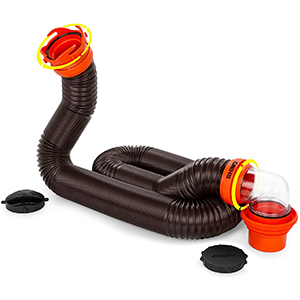 Camco RhinoFLEX
The Ultimate Solution to Make Your Camping Journey More Comfortable
Length: 5ft, 10ft, 15ft, 20ft
Material: Polyolefin
Check Price
Camco RhinoFLEX comes from the long-famous Camco brand that produces the best RV sewer hose kit on the market today. This RV sewer hose is a great, budget-friendly option for your RV dumping needs. Also, it's one of the easiest things to set up for those RV owners who want to get things done quickly and cleanly.
Camco RhinoFLEX is a best-seller because it is a hassle-free product that includes everything you need to get rid of your RV waste. The sturdy hose has a steel wire core that makes it stand up to the best of time. Although it has different sizes, we like the 15-foot option, which is great because you can use the amount you need. In addition, during the setup, switching between the two options becomes convenient.
The 4-in-1 translucent elbow adapter has 2 storage caps and 2 locking rings, making hosing easier for you. In addition, the adapter accepts standard sewer connections with a locking cap to prevent dripping. One of the eye-catching features is the see-through elbow. What's the point if you're unable to tell when you've finished? While it's unpleasant to see the content passing through the Camco sewer hose, the advantage is that you know the job will become easy.
The black water RV hose is not only versatile, but also highly durable, and can easily compress down to a length of 56 inches, making it easy to store in your RV. When replacing the hose, it's important to keep the locking rings and fittings, as these detachable components can serve you long-term and help ensure that your sewer system remains leak-free.
Features
4 in 1 translucent elbow
Reinforced steel wire
Swivel bayonet elbow
56-inch storage capacity
1-year warranty
Pros
Permanently joined fittings
See-through conjunction with viewing flow
Reduces to a small size
Durable 23-milliliter thick hose
Cons
Traditional bayonet fittings are hard to disconnect
Connectors loosen over time
2. Thetford Titan – Sewer Hose for RV
Also Great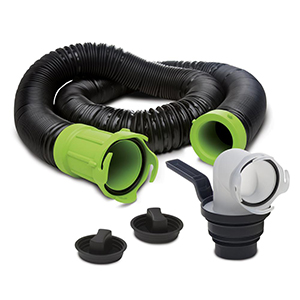 Thetford Titan
Sturdy and Durable RV Sewer Hose
Length: 10ft
Material: Rugged TPE
Check Price
Next up on our list is the best sewer hose for an RV that comes from the Thetford brand, known for producing high-quality and durable sewer hoses for RV owners. For those RV owners who are frequent users of their rigs, this heavy-duty RV black water hose might be your best bet.
So, what cements its place as an ideal heavy-duty RV black water hose? Well, the Thermoplastic Elastomer (TPE) makes this hose uncrushable. Not only does the TPE add more strength, but it also ensures durability in the long term. In addition, its puncture and tear-resistant properties make it even more robust.
The Thetford Titan RV sewer hose stands out with its 5-in-1 sewer adapter, which provides versatility and convenience. The Secure End Caps effectively prevent any dripping, ensuring a clean and mess-free experience. Additionally, the bayonet mount offers an extended universal grip to the hose, making it easy to attach and detach from the RV and dump station. These features make the Thetford Titan RV sewer hose a reliable and user-friendly option for RV owners.
No doubt Thetford sewer hose can extend up to 15 – 20-foot, but its one obvious downside is the awkward and stiff storage. Overall, Thetford Titan is worth every penny thanks to its ever-lasting performance. In addition, the ideal heavy-duty construction facilitates abrasion resistance. You can't go wrong with this one!
Features
5 in 1 sewer adapter
15–20-foot extension
TPE construction
Bayonet mount grip
1-year warranty
Pros
TPE construction allows no leakage
Uncrushable hose
Abrasion and tear-resistant
Versatile connection adapter
Cons
Leakage issues if not tightly fitted
Storage is difficult due to hose stiffness
3. Valterra Dominator – Universal Sewer Hose for RV
Best Universal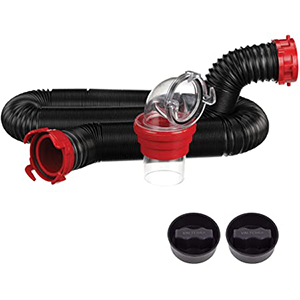 Valterra Dominator
Durable and Lightweight Sewer Hose for Easy Use
Length: 15ft, 20ft
Material: Plastic
Check Price
Once again, the Valterra Dominator is another excellent option for your RV sewer hose needs. Like the other two hoses reviewed, this affordable option is perfect for casual RV owners.
This 15-foot black water hose can resist crushing and can easily collapse down to excellent 57-inch storage. In addition, the attached sewer settings guarantee no leakage of any content. These fittings also prevent kinks thanks to the 360-degree spin.
Like the Camco Rhino FLEX, this one has see-through conjunction that allows you to see if the tank is empty. It might not be a pretty sight, but ensuring that all is clear is still better. In addition to that, UV stabilizing technology enhances the sewer's durability.
When draining waste, the pre-installed fittings with bayonet hooks allow for greater compactness. However, if you damage one of its parts, you won't replace it since they are all permanently attached.
Features
4 in 1 sewer adapter
Up to 20-foot extension
Pre-installed fittings with bayonet hooking
23-milliliter thick
1-year warranty
Pros
Foldable nature
Straightforward and easy to use
Great build enhances durability
Compactness prevents leaking
Cons
Difficult to clean
Cracking issues if pressed too tightly
---
RV Sewer Hoses 101: Things To Consider When You Buy RV Sewer Hose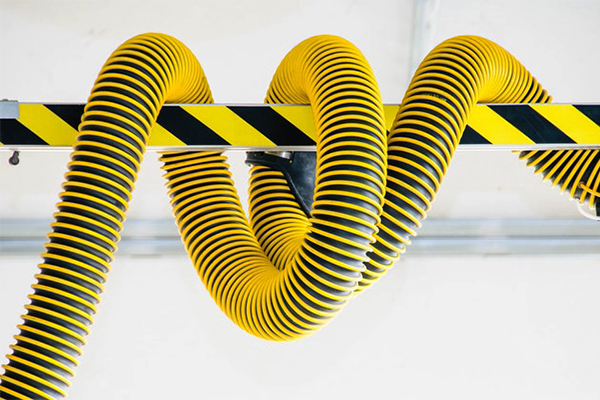 Now that you've read our review of the best RV sewer hoses, you're one step closer to deciding on your favorite. But wait, hold on – just not yet! There are some key factors that your RV sewer hose kit should have before you get one. Let's take a deeper look at them:
Size
Have you decided where to keep your black water RV hose kit when not in use? Well, you should. RVs offer a bumper storage space of 4 inches, which should be big enough to insert hoses without fittings. Keep in mind that your sewer size should neither be too big nor too small. It should be a perfect mix of both.
Wherever you're planning on storing it, be sure to check the size and compactness of your RV sewer hose to ensure it fits. Something like the Valterra Dominator comes with a compact design that can fit almost anywhere in your RV!
Length
Even though most RV sewer hose kits are similar, one thing that separates them is their length. Therefore, it helps you determine the right hose for your RV. Most of the RV sewer hose kits available range from 10, 15, to 20 feet. While choosing one, you need to be wary of the hose not being too short. Because then it may not reach your camping setup.
However, a long and heavy hose is difficult to handle. Finding a happy medium is vital. It ensures that you don't need to be too close to the sewage area. Therefore, if you've been paying attention, you must have seen that our Thetford Titan varies from 15 to 20 feet. It's the right size you're looking for.
Ease of Use
No doubt, everyone is looking for a sewer hose that is easy to use. But you don't get many these days. So it is important to find one that ensures no breaking and cracking, something that is flexible.
Wouldn't you prefer an easily detachable sewer for your RV? Unfortunately, there have been many cases where RV owners have cracked their hoses due to stiffness. To avoid that, look out for cradles and adapters that will ease things for you.
In this case, we would recommend the Valterra Dominator, which has a straightforward operating method. In addition, the foldable nature makes it super easy to use.
Compatibility
When it comes to RV black water hoses, compatibility depends on several factors. First and foremost, the hose should have a good flow to prevent any blockages during waste drainage. The thickness of the hose is also important, with a range of 23-25 millimeters being ideal. Additionally, the hose should be durable and resistant to abrasions and leaks, as well as easy to store and transport. A good RV sewer hose kit should also come with necessary accessories such as adapters, clamps, and end caps.
Similarly, not only should your RV sewer hose be easier to deal with, but it should also have a compact structure that allows no leakage. To achieve that, you can choose any of the ones from our review. They are all compatible and kick things off from the first day!
Ease of Storage
Having a sewer hose kit for an RV that offers easy storage is vital. In the case of an emergency, you wouldn't want your RV sewer kit to get stuck on the bumper while you're taking it out.
These sewer hose kits come in different sizes. You have to ensure you buy the one that is easy to store inside the RV and has a foldable nature.
From our review, both Camco RhinoFLEX and Valterra Dominator can fold, thus, making them easier to store in one of the RV's compartments.
Versatility
The best RV sewer hose should be versatile. It's as simple as that. Having a versatile hose serves many purposes. Not only would it stop leakage or dripping while draining, but it would also enhance stability and durability. To avoid slipperiness, you should always have a firm grip on your sewer hose.
From our review, we can confidently say that Thetford Titan is one of the most versatile RV sewer hoses you'll get on the market today. It offers all of the specifications mentioned above that a versatile RV sewer hose should have.
Material
Material is another vital component of your RV sewer hose. The only way you can find a durable hose is by ensuring you buy one with the best material. RV sewer hoses with medium to lower quality materials are bound to tear or crack at some time.
Although you can get a sewer from various materials, look out for the ones with steel wires or Thermoplastic Elastomer (TPE). Especially if you look at our Thetford Titan, you'll be overwhelmed at its ability to withstand heavy-duty usage. In addition, the TPE construction multiplies the hose's durability.
Additional Features
Among many additional features, one of the most important is the crush resistance that your hose offers. So often, your RV sewer hose faces crushing due to extra pressure or even when you're utilizing it for heavy-duty purposes.
Another important feature is the UV-resistance nature of your RV sewer hose. Any RV owner knows that RVs are sometimes parked for weeks, and sewer hoses lie out under the sunlight for ages. However, if your hose is UV-resistant, you won't have to worry about the sun taking a toll on your plastic hose.
Your RV sewer hose kit should have a smooth interior. If you want to avoid clogs and clumps, use a wire to hold the hose's shape. This will result in the creation of valleys and ridges inside the hose.
Conclusion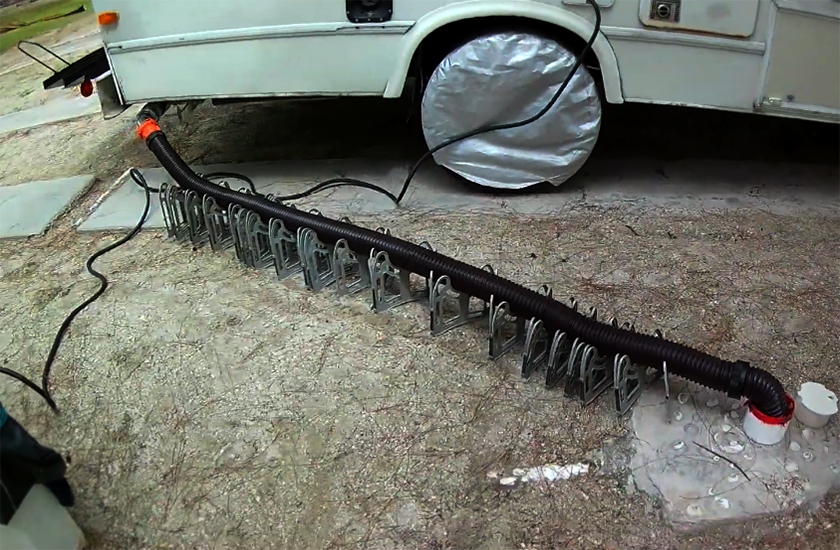 That's right! Investing in a quality RV sewer hose is definitely worth it in the long run. A reliable and efficient hose will ensure that you can easily and safely dispose of your waste without any mess or hassle. Don't compromise on the quality of your RV sewer hose and choose one that fits your needs and budget.
The above-reviewed three products are all great choices for any RV owner. But, in particular, the Camco RhinoFLEX is our favorite. This sturdy and foldable RV sewer hose has pre-attached settings that make it simple to use. And if you have a portable waste tank, this top-notch RV sewer hose would be your safest and the best bet!
However, don't forget to check out our Thetford Titan and Valterra Dominator. While the former is the best sewer hose for RV, the latter is the best universal sewer hose kit. Both are fully capable of providing durable and smooth service during long-lasting trips.
Regardless of which one of the above you choose, be sure to evaluate all your needs before finalizing one. Take into consideration all the key factors. Make sure you have the best sewer hose to improve your RV experience! Happy travels!
---
Video: How To Setup RV Sewer Hose
---
Frequently Asked Questions
We'd be surprised if you're a new RV owner and don't have any questions. So in this part of our review, we'll focus on some of the most frequently asked questions.
How Do I Protect My RV Sewer Hose?
Protecting the RV sewer hose is one of the most vital parts of RVing. Often, you end up tearing or cracking your hose. In this case, try wrapping your sewer hose in a heated coil. This will provide proper insulation, guarding your hose against tearing.
Use hose support. A hose support is a device that holds the hose off the ground and prevents it from being crushed or kinked.
Use a hose cover. A hose cover is a protective cover that fits over the hose and helps to protect it from damage. Hose covers are typically made from durable materials like vinyl or PVC and can be easily removed and stored when not in use.
Store the hose properly. When not in use, be sure to store your RV sewer hose properly to protect it from damage. Avoid leaving the hose in direct sunlight or in areas where it is likely to be stepped on or run over.
Inspect the hose. To help ensure that your RV sewer hose stays in good condition, be sure to inspect it regularly. Look for any cracks, kinks, or other damage that may have occurred, and replace the hose if necessary.
Regularly clean. Use high-pressure water to clean the sewer hose.
Where Should My RV Sewer Hose Be?
Do people often wonder what the right place to store the RV sewer hose is? Well, RVs usually have storage under the side of the camper or inside the bumper. So, when you're done cleaning your hose after us, dry it, cover its ends with the caps, and curl it into the bag.
Are RV Sewer Hoses Universal?
The RV sewer hoses are the same for all RVs. If you look at a typical sewer hose that connects to the black-water tank, it has a diameter tubing of 3 inches. This dimension is known as the universal diameter for all RVs.
A standard, universal sewer hose has fittings and lugs on both ends. The two tanks, black-water or grey water tanks, have the potential for large debris for which it uses a 3-inch outlet pipe. It is important to choose a hose that is the correct size for your RV's sewer connection to ensure that it seals properly and prevents leaks.
Do RV Sewer Hose Lines Freeze?
Yes, they do. Often, you'd see an RV parked for weeks in one place. And if the weather becomes cold enough, even the best RV sewer hose lines are susceptible to freezing. When a sewer hose freezes, it can become stiff and brittle, which can make it difficult to use and can potentially cause it to crack or break.
To prevent your RV sewer hose from freezing, it is important to take the following precautions:
Insulate the hose. To help prevent the hose from freezing, you can wrap the hose in insulation material.
Use a hose heater. Hose heaters are small, battery-powered devices that can be placed around the hose to keep it warm.
Drain the hose. After each use, be sure to drain the hose completely to remove any waste that may be left in the hose.
How To Unfreeze an RV Sewer Hose?
If your RV black water hose freezes, try de-thawing it by pouring anti-freeze inside the holding black-water tank. If this doesn't help, try wrapping a heated coil on your hose, and you'll see how easily the sewer hose unfreezes.
Are Sewer Hose Supports Required?
If you're planning on staying somewhere in your RV for a week or so, you might want to leave your hose connected all the while. It's simply better than dumping and putting the sewer hose away again and again. So, if you're leaving it out there, you'll require support for the sewer hose to stay connected.
What is the best length for an RV sewer hose?
The best length for an RV sewer hose will depend on the size of your RV, the layout of the campsite, and the location of the sewer connection. In general, a longer RV sewer hose is more versatile and can reach a wider range of sewer connections, but a shorter hose is easier to store and handle.
As a general rule, a 10-foot to 15-foot RV sewer hose is a good length for most situations. This will allow you to reach a wide range of sewer connections without having too much excess hose to deal with. If you have a larger RV or if you frequently stay at campsites with sewer connections that are farther away from your RV, you may want to consider a longer hose, such as a 20-foot or 30-foot hose.
When selecting an RV sewer hose, it is important to choose a hose that is made of durable materials and is resistant to punctures and leaks. It is also a good idea to choose a hose with a clear, easy-to-use connector that allows you to easily attach and detach the hose from the RV and the sewer connection.
---
Recommended Articles:
The Best Paint for Trailer Frame
Summer Camping and RV Safety Tips
Reference: