Last updated:
18 Sep 2023
This article may contain affiliate links. For details, visit our Affiliate Disclosure page.
RV awnings come in a variety of materials, such as acrylic, vinyl, polyester, and even metal. However, despite their durability, camper trailer awnings are susceptible to dirt, grime, mildew, and other unsanitary substances.
Using the wrong cleaning products can indeed harm the fabric of RV awnings. It's important to use specialized cleaners and follow proper cleaning procedures to ensure that the awning fabric remains in good condition and retains its properties.
The color of the awning loses its brightness, and the fabric thins and completely loses its appearance. To prevent this from happening, use the special awning care products in this review. We recommend washing awnings in warm water, the temperature should not exceed 100°F.
For awnings to last a long time and to look attractive throughout the operation, the colors were bright – they need to be cared for. Cleaning your awning requires caution and following the rules, which we will tell you about in a moment. You should need special cleaning products as well as cleaning tools.
Regularly cleaning your RV awning is essential for keeping it in good condition. It helps remove dirt, dust, and other debris from the surface, which can prevent the growth of mold and mildew. Additionally, cleaning the awning can prevent the material from sagging due to the weight of accumulated debris, making it easier to fold and store. Regular maintenance can also prevent the appearance of cracks and prolong the lifespan of your RV awning. However, it's important to use the appropriate cleaning products to avoid damaging the awning fabric.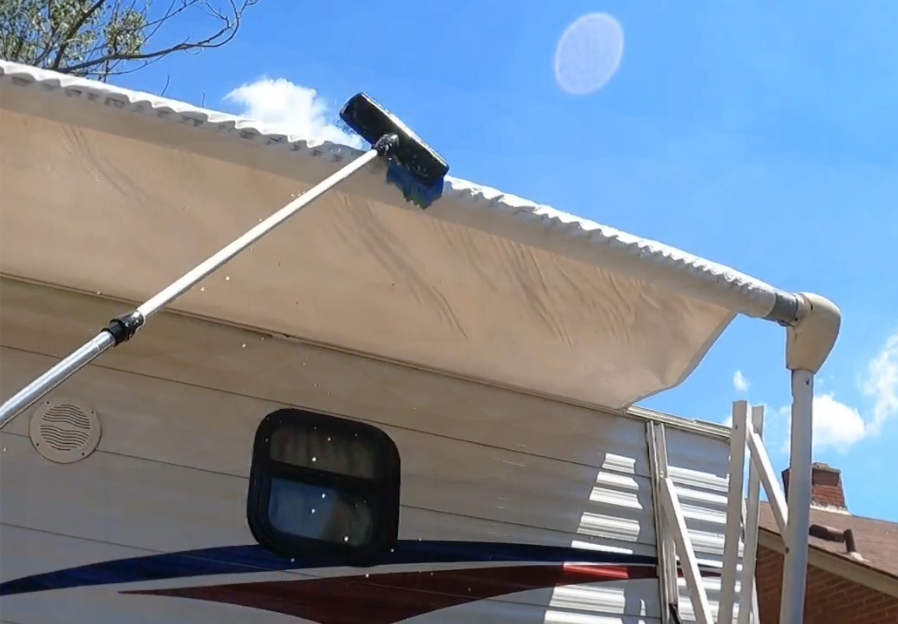 So washing and cleaning your RV awning should be done regularly. It is recommended that the awning be cleaned when it is warm and dry, then it will dry faster. When cleaning on your own, you must apply strong water pressure to all corners and bends – that's where dirt accumulates, brush to remove all stains and marks, paying special attention to the light areas of the fabric where dirt is particularly visible.
Important: Awning must be completely dry after cleaning and only then can it be folded.
What to know about the best RV awning cleaner and gathering all the relevant details isn't an easy task. To save you time we have compiled a details review of the best RV awning cleaner products with the features, pros, and cons, and the related FAQs to answer all your questions. Let's check them all out!
---
Best RV Awning Cleaner Reviews
1. Bio-Kleen Amazing Cleaner – Best Awning Cleaner for All Surfaces
Best Choice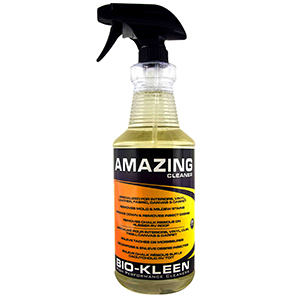 Bio-Kleen Amazing Cleaner
The Most Powerful Awning Cleaner
Surface: Leather, Plastic, Rubber, Fabric
Item Volume: 946 ml
Check Price
Our recommended choice for cleaning camper awnings is the Bio-Kleen Awning Cleaner. This product has been specifically designed to provide the improved durability that you need for your awning. Quality is not compromised with this cleanser, as it is made with high-quality components to ensure long-term dependability.
This detergent will give efficient and hassle service for many years to come, making it the ideal choice for your satisfaction. It removes stubborn leaves debris and mold from fabric and vinyl awnings quickly and safely. It's also effective on bird droppings, bugs, and other organic matter.
These professional-grade treatments make aging RVs appear brand new, and new RVs look even better. The Bio-Kleen cleaner has been carefully developed for a single task and is quick and simple to use.
Bio-Kleen is highly effective in removing mold and mildew, leaving a shiny surface on various surfaces including cars, boats, and trailers. Its biodegradable and non-toxic nature make it marine-safe and eco-friendly. Additionally, it can effectively remove chalk deposits on RV rubber roofs, making it a versatile and useful cleaner for all RV owners.
Bio-Kleen Amazing Cleaner is an absolute must-have for RV owners who want a clean awning. Use the solution diluted with water as often as needed, as it will not harm your awning or the surroundings once you rinse it off.
Features
All-purpose cleaner
Available in a 32-ounce bottle
100% Biodegradable
Non-aerosol
Easy to use
Pros
Cleans your textiles surfaces
Remove dirt and mold stains
Removes bugs and other detritus from your car, boat, or trailer
Remove chalk deposits from RV rubber roofs
Cons
Paint removal may occur
The stubborn area requires a second application
2. Meguiar's 57 Vinyl & Rubber – RV Awning Cleaner and Protectant
Also Great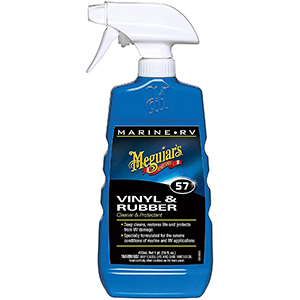 Meguiar's 57 Vinyl & Rubber
The Most Economical Awning Cleaner
Surface: Plastic, Rubber
Item Volume: 473 ml
Check Price
This is particularly important in a marine environment and for larger vehicles like RVs that cannot be stored in a garage. Meguiar's 57 Vinyl & Rubber Cleaner is a great choice for cleaning and protecting rubber, vinyl, and plastic surfaces in one easy step.
The spray solution has a composition that is particularly suitable for the harsh circumstances seen in marine and RV situations. It consists of a premium, sophisticated combination of chemicals that provide a safe, thorough scrubbing ability, shine, and durability. It accomplishes all of this while leaving a clean, rich, natural shine rather than a greasy or fake plastic appearance.
Cleaners and conditioners assist in keeping surfaces from drying, deteriorating, and cracking, while UV protection prevents sun damage. Meguiar's 57 cleaner protects the vinyl and rubber components on your boats or RV.
Features
Premium ingredients
Gives natural shine
Easy to use
Non-greasy
Available in 16 oz. bottle
Pros
Simple application
Biodegradable
Sparkling, luster and protect
Conditioners and UV protection
Cons
Slightly expensive
Has a strong odor
3. Camco Pro-Strength – RV Cleaner for a Spotless Awning
Best Professional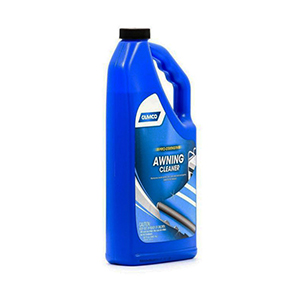 Camco Pro-Strength
Say Goodbye to Dirt and Grime
Surface: Safe for all fabrics
Item Volume: 1 Gallon, 946 ml
Check Price
This cleanser is made by Camco, a brand that every RV user should be familiar with. The company has a wonderful reputation for producing high-quality items that frequently set the benchmark in their respective markets.
And this RV awning cleaner is no exception, as it offers several features that can help restore your awning to top-notch condition. For example, the cleanser can easily eliminate all the elements that can cause problems, such as dirt, marks, mold, mildew, grease, tree sap, and more.
It doesn't take much of this cleaner to get the desired effects. One can of cleaner is enough for a long time. Along these lines, this cleanser is the basic option for usage on a variety of surfaces, including acrylic, vinyl, nylon, textiles, and other surface materials. With this much adaptability and convenience, it is evident that this cleaner will not be languishing in your storage space, gathering up dust.
Features
RV awnings are restored
Removes mold spots, filth, tree sap, and roadway grime
Available in a 32-ounce bottle
Professional power
All-fabric safe
Pros
Awning cleaner for RVs
More basic option
Not harsh on the tent fabric
Good for sensitive to strong odor people
Cons
Not suitable for super moldy tents
Doesn't work on black streak
---
RV Awning Cleaners 101: Which is the Better Option for Your Needs
To help you make an informed buying decision, it is important to consider the following factors when choosing an RV awning cleaner:
Size Availability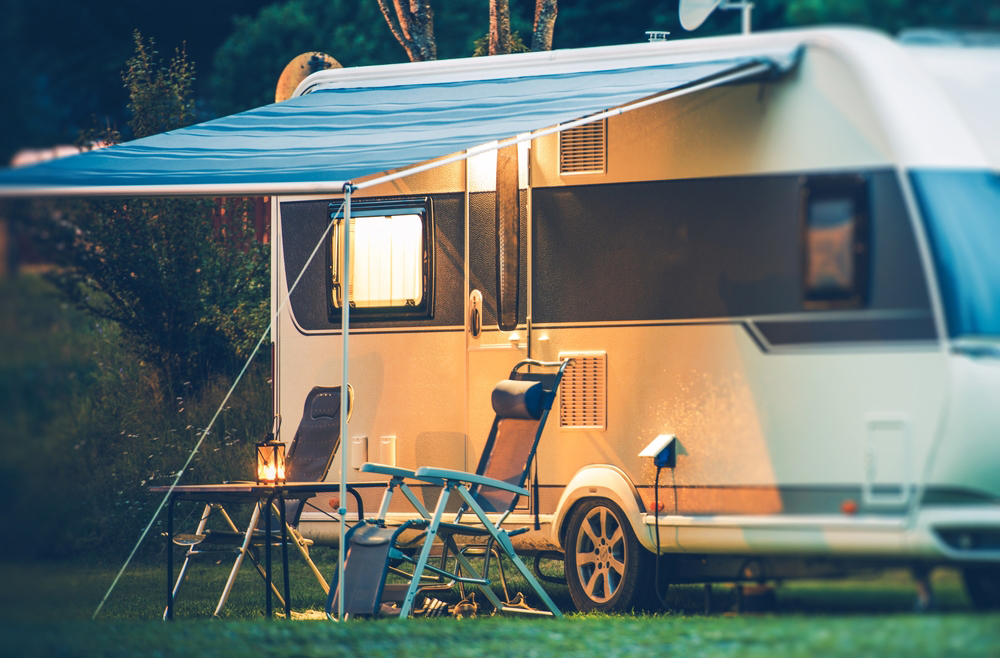 The best RV awning cleaners is available in various sizes ranging from 16 oz. to 64 oz., among which the 32 oz. bottle is the most popular and best one, which also runs for a long time. Our best RV awning cleaner, #1 Bio-Kleen Amazing Cleaner, is easily available in this size and has the best price. With the handy design of this spray bottle, you can keep it anywhere on the shelf.
Effectiveness
The best method to determine how successful a product is in cleaning the awning of your RV is to purchase a little bit of it and test it on a tiny area of the area. It is a huge support in determining how effective the product is. If any harm or discoloration occurs, the very least you can do is save your money by not purchasing a large quantity of the substance.
A good cleanser can be cleaned without any additional effort on your side. There are numerous nice and dependable brands of cleaners available on the market that you can just spray on the surface you want to clean and wipe off.
Ease of Use
You should purchase a prepared-to-utilize RV shade cleaner. If practical, it ought to be in a convenient spray container that you can utilize immediately. In any case, a few chemicals should be killed and utilized like customary cleanser, which is anything that doesn't bother.
However, if you need to do a quick spot cleaning, it's better to use a readily available cleaning solution. You can also find solutions that are so effective that you only need to spray them on the stain to see them remove the dirt and stain.
All that remains is to wipe away the excess cleaning agent. You shouldn't flush it off. Besides, a cleaner ought to be sufficiently able to clean surfaces completely in one go, implying no use of any further application. You may utilize proficient grade arrangements that are amazing to such an extent that you just need a modest quantity to eliminate earth and foulness.
Versatility
While a devoted shade cleaner is ideal, it is more financially savvy to get a cleaning item that you can likewise utilize to clean different surfaces in your RV. For instance, a vinyl cleaner for awning can likewise clean the entryway boards, plastic dashboard, and vinyl components of the recreational vehicle. Thus, that is a decent option.
Even though the item's bundle shows that it is alright for explicit materials, you ought to consistently play out a test spot application first on a small area of the thing you will clean first. To play it safe, you should take the test. On the off chance that there is a sign of any stain, it will be in a subtle area.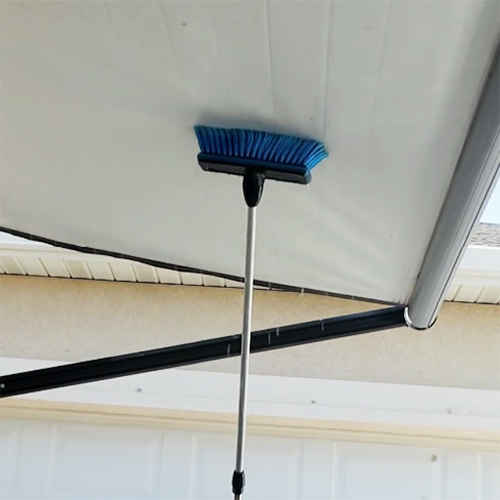 Anti-Mold Feature
While buying the RV awning cleaner, the basic and the foremost feature required is, of course, having the property of anti-mold. A compatible cleaner that is anti-mold is the favorite one of the RV awning cleaner owners.
If your awning has mold or mildew, you should clean it using the finest awning cleaner solution before continuing with your regular cleaning routine. Mold is difficult to remove; therefore, you may need to scrape more. Remember to scrub the mold with a soft bristle brush rather than a harsh one since a hard one may harm your awning.
Additional Features
Each awning is one-of-a-kind. They need varying degrees of upkeep. Before you go out and buy an awning cleaner, you need first to understand what your awning requires.
Certain products come with additional features such as UV protection or water resistance. Knowing exactly what you want from a product can help you find the one that meets your specific needs.
Remember that good item usually have warranties. This is true even in the realm of cleaning goods. When purchasing an awning cleaning, consider the guarantee the manufacturer provides. Your awning can collect a lot of dust and grime, but frequent cleaning can keep it looking like new with each washing.
Conclusion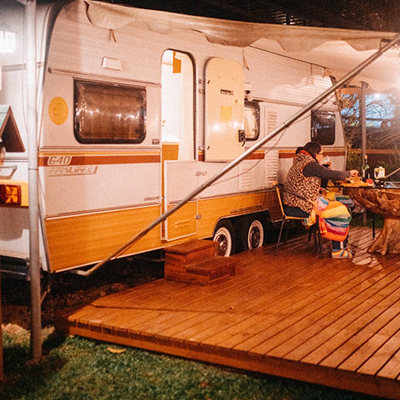 To maintain the quality and longevity of awning fabric, it's advised not to wash it frequently and avoid using harsh detergents or aggressive brushing. This is because the fabric is coated with Teflon, which can be easily damaged if not treated with care. It's recommended to use gentle cleaning methods, such as wiping with a soft cloth or using a mild detergent solution.
A filthy, molded awning may greatly detract from the aesthetic of your RV and possibly lower its resale value. Fortunately, there is a wide range of RV awning cleaners available to assist you in keeping your vehicle looking its best.
With the RV awning cleaner discussed above, you can keep your RV awning clean and prevent stains from forming. Its gentle composition is suitable for all types of RV awnings and is biodegradable.
A wonderful option for keeping your awning in good shape, in our opinion, is the Bio-Kleen Amazing Cleaner. With the best reviews, features, and benefits, it is perhaps the perfect solution to get rid of your RV awning.
Simply spray down your awning and let it clean itself for the least amount of trouble and an easy, rinse-free route to a clean awning. Whatever your needs are, you'll find the finest RV awning cleaning for you in our collection! We hope our recommendations will come up to your expectations.
---
Video: How to Clean RV Awning: A Step by Step Cleaning Guide
Video: Pro-Strength RV Awning Cleaner short ADS
---
Frequently Asked Questions
Got questions in your mind as you are experiencing RV awning for the first time? Don't worry! We have your queries covered in this part of the review.
What is the best way to clean an RV awning?
An RV awning can accumulate dirt, grime, mold, and stains over time, which can make it look unsightly and reduce its lifespan. To keep your RV and RV awning looking its best, it is important to clean it regularly.
Here are the steps you can follow to clean an RV awning:
Gather your supplies. To clean an RV awning, you will need a soft-bristled brush or broom, a hose with a high-pressure nozzle, a bucket, a mild detergent, and a ladder (if the awning is too high to reach).
Remove any debris. Use the brush or broom to sweep away any leaves, twigs, or other debris that has accumulated on the awning.
Rinse the awning. Use the hose to rinse the awning, using a high-pressure nozzle to remove any dirt or grime. Be sure to rinse both the top and underside of the awning.
Mix the cleaning solution. In the bucket, mix a mild detergent with water according to the manufacturer's instructions. Avoid using harsh chemicals, as they can damage the awning fabric. You can simply use an awning cleaner. Simply spray it on the surface and wipe it clean when finished. Many of the best formulations also do not need washing or the use of any additional equipment.
Scrub the awning. Use a soft-bristled brush or sponge to scrub the awning with the cleaning solution. Be sure to pay extra attention to any stains or stubborn dirt.
Rinse the awning again. Use the hose to rinse the awning, making sure to remove all of the cleaning solutions.
Dry the awning. Allow the awning to air dry, or use a clean, dry cloth to blot any excess water. Be sure to let the awning dry completely before retracting it.
How can I clean my RV's vinyl awning?
To learn how to clean a camper awning or any other fabric for the awning, simply use a specifically developed and manufactured cleaner that is appropriate for the type of material of your awning for the best results.
What is the best way to clean a white RV awning?
The white awning is simple to clean and maintain with an efficient cleaner that is appropriate for the sort of material it is made of. Simply spray it on the surface and wipe it clean with a hand pad. In the case of some awning cleaners, you do not need to wash them off.
How can I keep mildew from growing on my RV awning?
If mold or meldew has started to grow on your RV awning, it is important to remove it as soon as possible to prevent it from spreading and causing further damage.
Keeping the awning clean can help to prevent mildew from growing. Be sure to remove any dirt, leaves, or other debris that may accumulate on the awning, and wash the awning at least twice a year to remove any accumulated grime.
Even with cleaning RV awning bleach, this problem might be difficult to avoid, especially since the awning is constantly exposed to the weather and fluctuating temperatures. You can keep dirt from accumulating by taking care of the awning and cleaning it with an RV cleaner.
If possible, store the awning in a dry, well-ventilated area, and make sure that it is completely dry before storing it. It can help keep mildew, mold, and lichen from growing on the awning in the future.
How to remove mold from an RV awning?
Mold most likely grew on your awning material because you folded it even though it was wet from rain and did not allow it to dry properly. Fortunately, there are numerous kinds of recreational vehicle awning cleaning that can remove mold just as well as the bleach but without harming the awning material.
Furthermore, most cleaners of the awning have chemicals that bind it with a protective coating on the awning's surface, preventing stains from occurring. You may also anticipate it to provide good UV protection.
How frequently should you clean your RV awning?
It is critical to keep your RV clean and clear of dust, grime, and pollutants to keep it in good condition. While an awning may provide excellent protection for your RV, it is critical to clean the awning regularly! If necessary, you may use a cleaning on your RV awning as frequently as once a month.
The frequency with which you should clean your RV awning will depend on a number of factors, including the type of awning you have, the weather and climate in which you use it, and how often you use it. If you use your awning in an area with high winds, heavy rain, or other harsh weather conditions, you may need to clean it more often to prevent the build-up of dirt, debris, and other contaminants.
Be sure to follow the instructions on the cleaner carefully and avoid using harsh chemicals or abrasive scrubbing tools, as these can damage the awning fabric.
Is bleach safe to use on the camper awning?
When cleaning fabric awnings, it is typically ideal not to use bleach with chlorine content in it since it can cause discoloration of the fabric while washing, the special covering that keeps it waterproof. Non-chlorine bleach can help with removing stubborn stains from the awning.
It is great if you choose a color-safe one and use it carefully. On the side of discoloring the material, if the level of chlorine is high enough in the cleaner you just bought, it can easily detonate it. The cotton stitch at the awning's hem is usually the first item to disappear. When that fails, everything else begins to fall apart.
Bleach can be an effective cleaning agent for removing mold and mildew from an RV awning, but it is important to use it with caution. We recommend the use of special RV awning detergents, not bleach.
Can I pressure wash my RV awning?
It is generally safe to pressure wash your RV awning, as long as you take certain precautions to protect the awning fabric and hardware. When pressure washing an RV awning, it is important to use a low-pressure setting and to hold the nozzle at a slight angle to the fabric to avoid damaging it.
---
Related Posts:
Save Your Awnings – Tips & Tricks
Reference: