Last updated: 8 Apr 2021
Along my journey to my dream of touring the country in an RV one day in the summer of 2016, I have been researching various types and models to get an idea of what could meet my needs. Since my style of traveling will be to move the RV to a place, settle it in, and then use a car to gallivant around and do stuff like see the sites, hike, and take pictures, I'm looking at either a trailer towed by a car or a smaller motor home RV with a car towed behind it.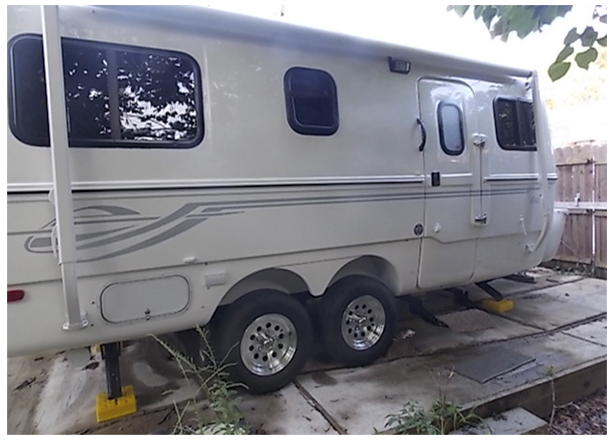 One of the types of trailers that I have been researching is the fiberglass lightweights (also known as "egg" style campers for their white color and rounded edges). This appeals because they are easy to tow, maneuver, and maintain. Plus a few of them are well-built which is important to me.
Escape Trailer Industries of British Columbia, Canada, is one of these manufacturers. They produce high-quality travel trailers and will do many customizations for you as well. Things like adding extra outlets, letting you choose your own fabrics, flooring, and counter top, installing extra brake lights for safety. Very few companies do this and those companies leave you to make some desired modifications only after the trailer has already been built and you take possession of it. Seems much easier to do these during the initial build.
Recently on the Escape Owners Forum, I learned of a 19′ Escape trailer for sale in York, PA, about 100 miles from me. I contacted the owner, forum member,(I will call him "Harley" for this post), and arranged a visit with him for me to meet him and tour the trailer. For me, it is important to physically see and walk through a vehicle to see how well it suits you as pictures alone just cannot give you the right perspective. And since these egg-style campers are sold directly from the factory, we don't see many of them in the eastern U.S.
Harley is a real fan of travel trailers, having owned 7 of them in the last 10 years! With all of those experiences, he developed a lot of knowledge which he likes to share. His current model, the Escape 19′ trailer, is for sale as Harley already ordered the latest model, a new 21′ Escape. The new model has a larger kitchen and bath than the 19′ as well as a rear-facing dinette.
For his current 19′, Harley ordered many upgrades including air-conditioning, full insulation throughout (he likes winter camping), solar power, an outdoor screen room, and many other features for both safety and comfort.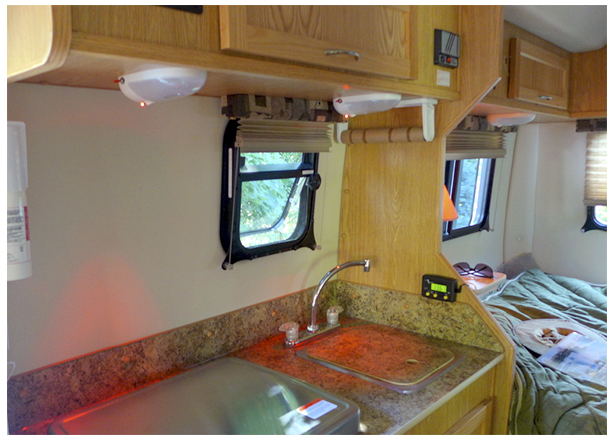 And that was not all. Harley loves to tinker (he is retired) and makes even more "mods" such as installing additional outlets, custom flooring, sconces for ambiance, a TV, and a weather radio. And many of these lights and gadgets have his custom switches and indicators. Seeing all these additions, I teased him that now he "needs" another new trailer so that he could have a clean slate for even more and better "mods".
Harley patiently (I am a total novice with LOTS of questions) took the time to walk me through all of the systems and features of Escape 19. I was very impressed with the quality. I think it would fit my needs and I felt comfortable moving around the outside and inside of it. Although, this little tour also reminded me of just how much I still have to learn.
I certainly liked the Escape trailer. Harley offered to sell me this one but I told him I am just not ready to purchase an RV yet. I still have a few years to go and I didn't want to take on having to buy a new tow vehicle and find and then pay for a place to store it until then. Harley very graciously accepted my decision and offered to help me learn how to care for my RV when the time comes.
So, my introduction to the "Egg" style campers was very successful. I can see why they are becoming so popular. And I made a new friend in the process. Can't ask for much more.