Last updated: 29 Apr 2023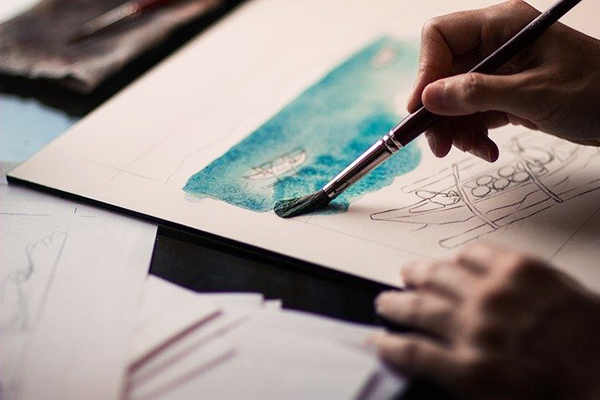 If you're an artist and you create paintings, jewelry, wood carvings, pet furniture, ceramics, quilts, or knitwear, you can take your creations on the road and sell them while traveling.
Here are some options on how to sell your art
I was researching for quite a while on how to (re-)sell some jewelry on the road myself. Here's what I came up with:
Check with tourist towns that are in the off-season, such as ski areas in summer. They organize all kinds of events to attract visitors during their slow time. They are happy to have vendors around and most of them offer you free space for your vendor booth.
Check with tourist towns that are in season. Some of them welcome good artists and you may have the chance to set up right on the main drag especially if you create the art on the spot and people can watch you do so.
Check with the city hall you are traveling through. Some cities allow roadside vendors. Once you found a spot on the roadside, put up small signs (you know, the little plastic ones to stick into the grass or zip-tie to a light post) a few 100 yards further up the road to let people know that you are coming up and they can prepare to stop. "One of a kind handcrafted quilts 100 yards ahead".
Check with specialty stores. Are flowers your favorite painting theme? Check with a flower shop and see if they want to hang up a few of your items and sell them on commission.
Do you have animal-themed paintings, jewelry, wood carvings, etc? Check with souvenir shops in zoos. Maybe they want to add some of your items.
Whatever your theme is – find out who else sells something in that niche and try to team up with them.
Sign up at Etsy. It's an online marketplace where they connect artists with buyers who look for unique handmade items.
Go to art fairs. There are many art fairs every weekend of the year – all over the country. This guy has pretty comprehensive information
Renaissance fests can be a fun place to go and sell your stuff.
I read Chris Guillebeau's eBook "create your freedom, break out of 9 to 5″. This got me off my butt and helped me to line things up to fulfill my dream. He also wrote, "Art + Money – Learn to thrive as a working artist without selling out". I haven't read that one myself as I am not an artist, but I hear it is very helpful as well.
And of course, we all know eBay.
If you are a photographer, you have many options to generate income while traveling. I will give you some insights on that in a future post. In the meantime, I'd love to hear from others in the comments section about how they sell their art.