Last updated: 11 Jan 2022
(785) 726-3212
32001 147 Highway
Ellis, KS 67637
Turns out Colorado State Parks near Denver are booked every weekend through the end of summer, so I reserved a site at an RV Resort half an hour outside the city for a week beginning next week and counted myself lucky. That meant I had three days to park somewhere within a half day's drive of my next destination.
Do you know how spooky it is to hear "Over the Rainbow" come on the radio while you're traveling through this land? If you've ever driven through Kansas, you know that there are 100's of farmer's fields, oil wells, and windmills for every house you can spy from the highway. I'd fantasized about driving these straight stretches of the road while swearing swerving around tight turns in the Blue Ridge Mountains, and now here I was. The sight of a town situated in a crossroads or an actual small city is enough to make your heart race!
During a lunch break, I pulled out the large road atlas my realtor gifted me with once the house sold. This atlas has been a lifesaver when internet connections are down, or just to help me get a visual image of where I am in space. So I looked for the little green tree symbol designating a park adjacent to my route. Aha! Cedar Bluff State Park looked to be about 5 hours from my next stop, only 30 minutes south of the highway, and had plenty of open spots in the Arapahoe camping area when I called.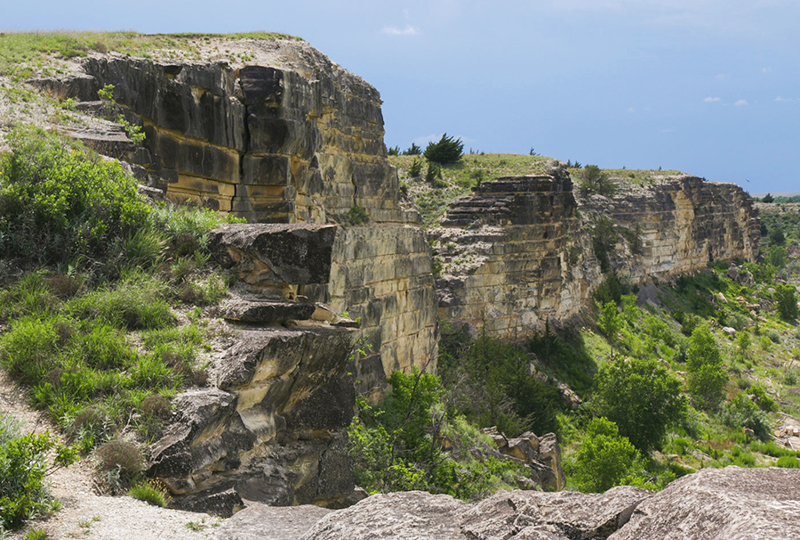 What the map, my GPS, and the friendly receptionist failed to tell me is that there are two sections of the park surpassing 13,000 acres including the enormous Cedar Bluff Reservoir. It was nearing sundown, and I was plenty tired by the time my GPS routed me past the Bluffton entrance, around the huge body of water, up a steep incline, over a narrow bridge, turn onto a gravel road with nothing but cows for company, around a bend, and finally into the Page Creek entrance of the park. I drove around a bit looking for the Arapahoe campground, before finding a fee station and map. Turns out I was in the wrong area of the park. Backtracked for twenty minutes before finding the right entrance. Argh.
The cool thing was that I got to see the blue moon come up over the prairie on one side, and the sunset over the water on the other side. Honestly, after driving for hundreds of miles past flat fields, this hilly oasis and blue water seemed like a mirage. The big, full moon just accentuated the effect.
There were plenty of open sites in the Arapahoe section, and I was able to practice backing into my site. Finally did it right! It was so quiet at night except for the crickets, with a cool breeze coming in the open windows. I slept well, and in the morning walked to the ranger's station, paid for two more nights, and asked about the best spot to put in my inflatable kayak. It seemed to have a slow leak the first time I took it out, so I wanted to test it out again. Turns out the staff had just recently opened a path past the swimming area with a sandy beach for picnicking and a small boat put in. The white branches of water-covered trees rose eerily from the water's edges. But it was a fine spot to inflate the kayak, assemble my gear, and launch.
Within 15 minutes I was sitting in 2 inches of water and dragged the boat back to the shore. But I made the most of the noontime hour and ate my lunch sitting in a camp chair, feet in the cool water. A call and email to the kayak manufacturer with photos attached showed a 2" gash near a seam that tore more the second time I used it. However, they determined that the boat had been damaged, but was not defective. How it got damaged the first time I used it, paddling around a lake, I don't know. They are willing to mail me a patch kit but make a warranty claim. Stay tuned to see how that story turns out.
Not sure what to do with me here without a water vessel, I wandered the lower campgrounds, climbed the road to the top of the dam, waited for the returning full moon, and took lots of photographs. The feeling of this state park is "serene". I spied only two tent sites to the hundreds of large RV's set up in several spacious campgrounds. My area had electric and water hookups, with common dump sites. The literature warned that there is no cell or data signal in the park, yet I had 2-4 bars and 4G using Verizon. I'd even upgraded my plan last week to include a mobile hotspot and was easily connected to the internet.
My evening walks were very pleasant, as fields of native grasses had wide paths mown through them to connect areas. Every so often there was an unexpected recreational feature – shaded picnic areas, benches, gazebos, basketball courts, horseshoe pits, lots of playgrounds, even a gentle BMX bike track. This is truly one of the best-planned park layouts I've been to. Wildlife spotted included whitetail deer, large eastern cottontail rabbits, a raccoon, and several bird species I did not recognize along with a new life bird, Dickcissel, and some familiar friends like Downy Woodpecker and Mourning dove. It was a pleasure to stay here, and I'll stop back if I'm ever back in the land of Oz.