Last updated: 8 Apr 2021
(706) 864-6444
65 R-Ranch Road
Dahlonega, GA 30533
This is my first foray into a high-end RV resort. R-Ranch in the Mountains is a combination RV resort and dude ranch with yearly rodeos and year-round horseback riding, I had driven by their front gate dozens of times on the way to local contra dances, but wasn't aware of this "hidden jewel in the mountains". I discovered them again in the Passport America member book, and while the advertised Passport America discount was listed at $5 lower than what I was told over the phone, I was happy to pay for two discounted nights at $17.50 and two at the regular price of $30 once I arrived on the grounds.
I requested a pull-through site and was guided to the 5th section, site 520, which backed up against a ridge decorated with black-eyed Susan's and other wildflowers. It was nice to keep the shades up on that side of the trailer 24/7. Hookups include 30 & 50 amp service, freshwater, sewer, and cable TV. Wi-fi was available in the nearby combination air-conditioned laundry room/rec room, showers, and covered shelter. Constructed with wooden beams river rock and wooden timbers for posts, this is the nicest bathhouse/outdoor office I've ever used. Verizon phone service was at 4 bars.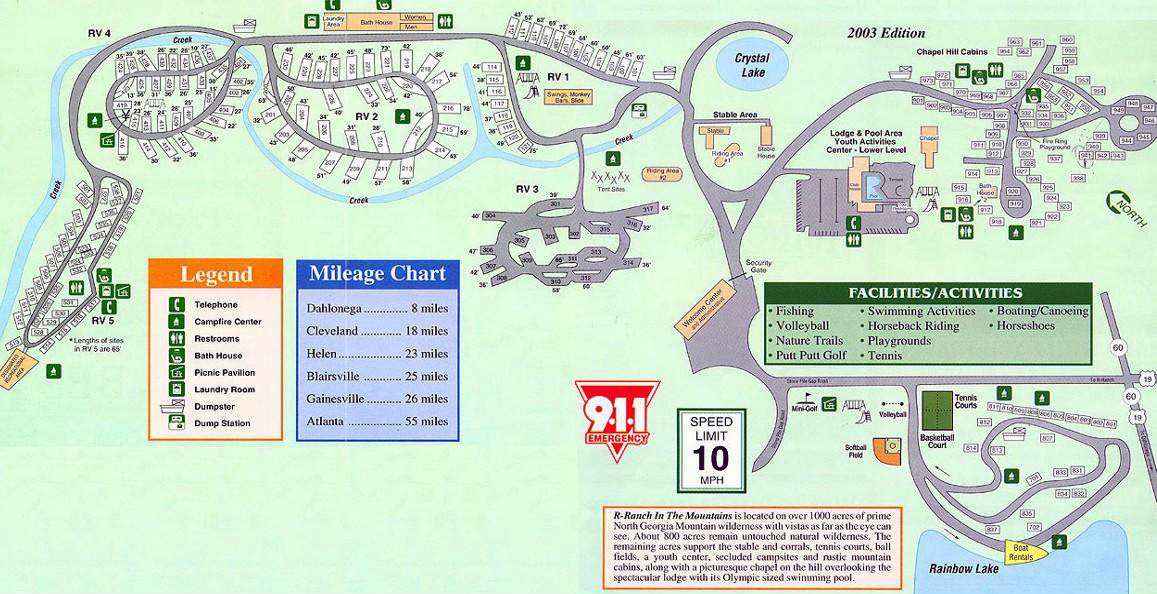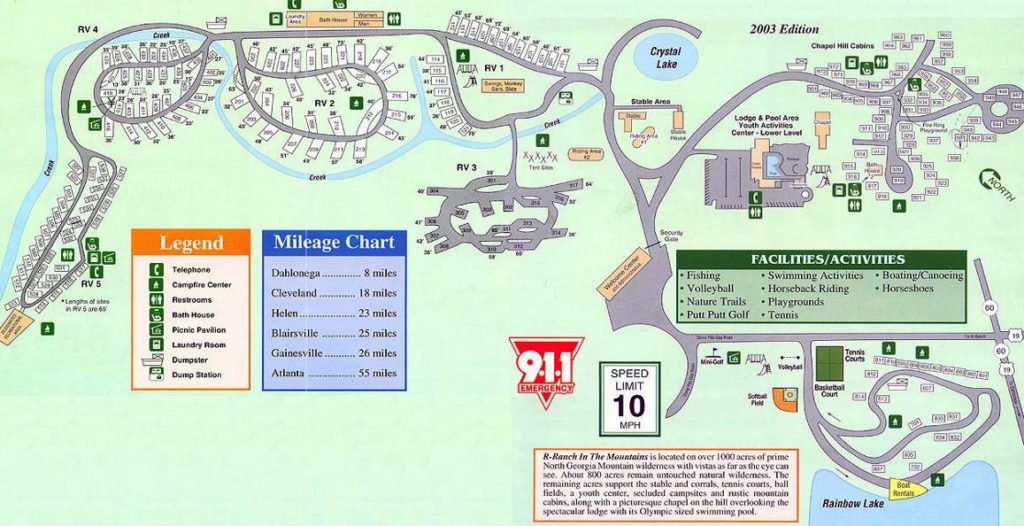 On my first full day, I ventured over to the pool, a short drive away. From the looks of things, the average resident owns 1.5 golf carts, and teenagers and retirees alike zip around day and night. The enormous saltwater pool was large, fairly empty, and the perfect temperature. It felt great to slip under the coolness of the water, then drip dry in one of the dozens of comfy lounge chairs surrounding the perimeter. Inside the lodge building, a roomful of young people was attending a week-long bible camp.
Just down the hill, a massive stable housed a dozen or more horses available free to residents or $15/hr within the corral or $25/hr for a trail ride to campers like me. The R-Ranch website said there were residential warranty deeds available. For more information see their website. My neighbors had just purchased a deed and pay a twice-yearly fee in addition to bi-monthly electric charges. While you wouldn't want to winter up here and expect to drive the mountain roads in bad weather, t is a deal I will consider for the future.
R-Ranch in the Mountains is available for weddings and other catered events. The chapel is a short walk from the lodge. And while I've seen plenty of mountain views, theirs are truly breathtaking. All in all, there is nothing I could suggest for improvement here. The staff, campsites, recreational opportunities, and panoramic views are all outstanding.