Last updated: 30 Apr 2023
As someone who loves cooking and discovering new kitchen gadgets, I thought it would be a good idea to create a dedicated page for sharing my favorite recipes and helpful tools. Here are some of the first items that I want to showcase.
A Breakfast Gadget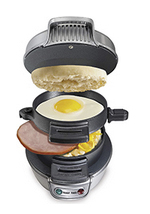 A breakfast sandwich maker – yes, have toast, egg, and Canadian bacon or a sausage patty for breakfast without having a big toaster and getting out the frying pan. This gadget is so helpful and takes up soooo little space!
In a matter of 3-4 minutes, you get a toasted English muffin, an egg, and either Canadian bacon or one of those pre-cooked sausage patties. You can make it into a sandwich or put it all on your plate separately with jelly on the muffin. I found it on Amazon, but you can get them at Walmart or almost anyplace.
An Electric Fry Pan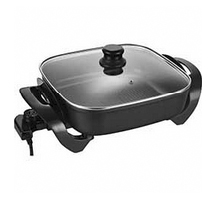 I found a Presto Foldaway 12 inch Fry Pan that is really great! Great because it takes up little space and is a really good gadget to have on our RV. When at a campground it can use the electricity when we "plugin" and cook many things. Pancakes! Grilled sandwiches! Bacon and eggs! Stir-frys! Fried chicken!
Oh, the list is long. It is so much better than using the gas stove with small fry pans. And the fact that it actually can fold up a little to take up less space is great. Easy to clean, the pan itself detaches from the base. How cool is that!
Cooking Pans
If you already have quality pans of the right size for your new lifestyle, that's perfect. On the other hand, if your pans are better suited for large family meals, or just worn out, give them away, sell them, or throw them away. Replace them with the right size for your new lifestyle.
My wife is a wonderful cook and her favorite pans are Anolon Advanced Pans:
Anolon Advanced Sauce Pan with Lid – 3 Qt.
Anolon Advanced Skillet 10″
Anolon Advanced Sauce Pan with Lid 1.5 Qt.
Whatever sizes you choose, you will be happy utilizing your space efficiently. Limit the frustration of emptying extra pans of your oven before you can bake, or moving 3 or 4 pans out of your way to access your favorite one to prepare a simple pasta dish.
Folding Bowls
Yep, you betcha! Bowls that fold down. I also got a strainer that does the same thing, and other items do the same… measuring spoons, measuring cups, etc. And they are not plastic which is a good thing. And they don't rattle while driving so you don't have to do anything special to keep them quiet!
A Really Cool Coffee Maker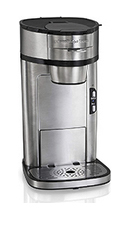 I love coffee. Fresh, hot, coffee. We tried a couple of other coffee makers, and either the coffee wasn't hot enough, or it didn't make the right amount, or they needed paper filters. Then I found this one. It has a little shelf that can arise if you have a shorter mug, or you can put a taller mug on it the way it shows in the picture at left.
It makes hot coffee and takes up not a lot of space. Works great on the RV. It has to sit on the counter, but put some Velcro around it to hold it and it is perfect.
Ice Cube Trays Made of Silicone
Oh, these are way cool. They are only 7 inches long, so they fit in the freezer of our RV perfectly from front to back, allowing a lot more room for other stuff in the freezer!! Several colors available, I just like red 🙂 Oh, if you get two sets, all four will pile upfront to back in the freezer. I couldn't get over how much else I can put in the freezer using these! And the cubes are a nice square size, not too little and not too big.
The Magic Bullet
The Magic Bullet is the greatest little gadget for making smoothies, chopping up chunks of veggies into small pieces, making salad dressing, minced garlic. It has mugs with covers, two blades and works great. 17 pieces of the set altogether. Low cost, small, lightweight, a must-have item for our motorhome for sure.
A Veggie and Fruit Hammock
I bought one of these a long time ago and I love it! It keeps the fruit and veggies from getting all bruised up in our RV.
The Ove Glove
These are so great! I use them in my house and in our RV too. They make things so much easier to grip. Here is the scoop from the company. Five-fingered Flexi-grip. For left or right hand. Withstands extreme heat up to 540 degrees F. The Ove Glove is perfect for the kitchen, barbeque, and handling hot surfaces around the house. The Ove Glove exterior layer is made of DuPont Nomex and Kevlar. Interior layer of soft double-knit cotton. Machine washable.
The thermal properties of The Ove Glove outer layer, which is made of Nomex and Kevlar dramatically extend the time you can handle a hot object in your hands. The tough exterior of this glove forms a thermal isolation barrier, slowing the temperature increase in the interior layer of soft double-knit cotton. When exposed to an open flame, the outer layer of the glove does not catch fire and does not melt. The Ove Glove's outer layer is made of 86% Nomex and 14% Kevlar. Classified UL: Protective kitchen apparel as to heat and flame resistant only. Maximum surface temperature 540 degrees F.
Optional Items For Your RV Kitchen
Bread Maker – I have been using my bread machine for about 3 years and love it. We are also fond of crusty European-style bread so I use the machine for mixing and kneading. Then I shape by hand and bake in the oven with excellent results. The oven baking does require some attention, but I don't mind as most of the time I can not buy bread as good as what I bake. The biggest problem is restraining ourselves from eating too much. I would recommend a bread machine only if you plan to use it frequently because it requires some of your precious storage space.