Last updated: 8 Apr 2021
I love Pinterest. I love browsing through all the ideas others have for their campers and motorhomes, their travels, their make-overs, their storage ideas. However… Yes, I have a concern about all the use of plastic for storage. Plastic is lightweight, doesn't break easily, is inexpensive, and has so many shapes and sizes and therefore so many uses. And yes, it certainly does have its place in every home and every RV for sure. But haven't you read about the chemicals that ALL plastics give off? Think about it… when you get in your car and you had left a water bottle in it and the car got really warm…hot….inside. didn't that water taste of plastic? The whole thing about BPA-free plastic is great, but plastic is still a chemically made-up thing.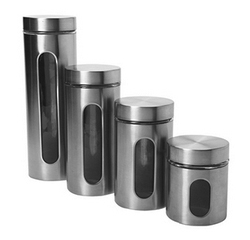 My own experience….. Once I had a plastic container in my kitchen with some cereal that we didn't eat very often, and one day when I poured it in my cereal bowl and ate some, it had a funny taste. It hadn't reached the expiration date or even near it, but it had picked up the taste of the plastic. I believe it was a Tupperware container. Obviously, I tossed out the cereal.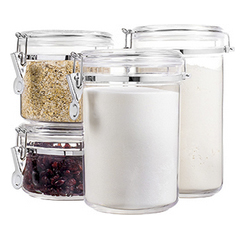 So . . . In our home, I have started using glass a lot more often, as well as stainless steel. I still use plastic for many things, but do try to not use it any more than I have to, without getting ridiculous about it. So of course that has carried over into our motorhome as well. I got some inexpensive stainless steel canisters for flour, sugar, etc. We got them here. Yes, they have acrylic lids, but the container itself is stainless steel. If I had found some affordable ones with all stainless steel I would have gotten them, but these seem fine. My thought is this… for foods that sit for any period, like baking powder, flour, sugar….. try a glass or stainless steel. It will keep the flavor better and be more healthy for sure.
Next, I got a set of 12 glass jars for my herbs and spices here. These were inexpensive as well, with metal lids and just the right size. PLUS…. they came packed in Styrofoam which came in handy for the RV. There were 2 halves, a top and a bottom, each with an indentation for each bottle. I simply cut out the rest of the indentations on the lid and attached it to the bottom, so I now have a foam holder for all the bottles that sit on a shelf or in a drawer! They just drop right into their slot and then no rattles, no breakage!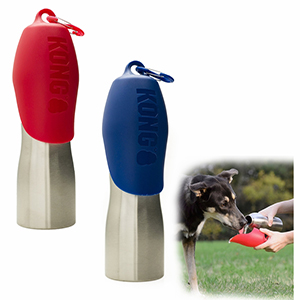 Another idea I came up with for food storage is canning jars. They have metal lids and hold up so well. They come in different sizes, so I can keep baking powder and baking soda in them and a lot of other things. Canning jars are inexpensive and very sturdy! Utensils…. instead of plastic or metal which rattles while driving, I use as many silicone utensils as I can. On Amazon simply type into their search bar the word "silicone" and you will get all kinds of kitchen utensils, bowls, strainers, etc. They don't rattle, don't break, don't weigh a lot, and are so safe to use!
You can so search for stainless steel bowls and come up with quite an assortment like this. And don't forget the dog! This is the small one we got, but they do have a larger size for big dogs. Isn't this cool?