Last updated: 30 Apr 2023
Although RV travel typically involves disconnecting from technology and enjoying nature, smartphones can still be useful for long trips on the road. While there may not be a single perfect phone for every RV traveler, we find it helpful to use a variety of devices to stay connected and organized.
When one doesn't quite do the trick, another will, and here are our favorites. We use iPads and iPhones, but I am sure these apps can be gotten for Androids as well. From apps to help us get to our destination to those that help us enjoy the journey, these travel apps are must-haves for your next RV adventure.
GPS CoPilot
Although Google Maps may already be downloaded on your phone, that doesn't mean you shouldn't download the GPS CoPilot app too. What's so great about CoPilot? It's an offline map program that works when you do decide to travel off the grid to places where cell phone service isn't available. It's ideal for travelers with limited data plans, poor cell phone service, and those who cross borders in their RVs, and even better, paid upgrades are available to give you live traffic and map updates as well as turn-by-turn navigation in a wide variety of countries.
Camp & RV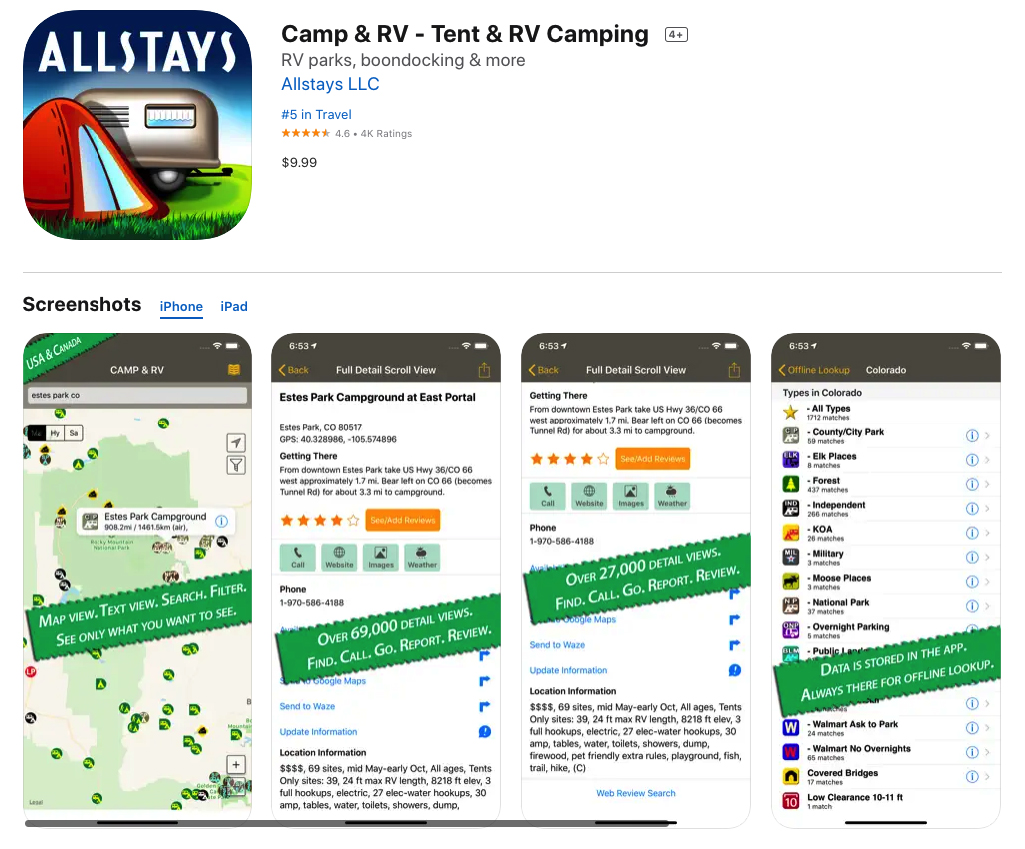 If you're an avid RV traveler, investing a few dollars in a helpful app can be well worth it, and that's certainly the case with the Camp & RV application. With this app, you can easily find a variety of stopping places, from high-end RV resorts to convenient parking lots for quick naps. The straightforward and ad-free interface of the app makes it a valuable tool for only $9.99.
Ultimate RV Checklist
Have you been using a pad and paper to list everything you need to do to prepare for a long RV adventure? Download the Ultimate RV Checklist app, which is only $1.99 for Androids and Apple products, and you'll finally be able to leave home without a worry. With reminders ranging from your stabilizing jacks to your bocce ball set, you can customize your list, and the app will track your progress for you.
Walmart Overnight Parking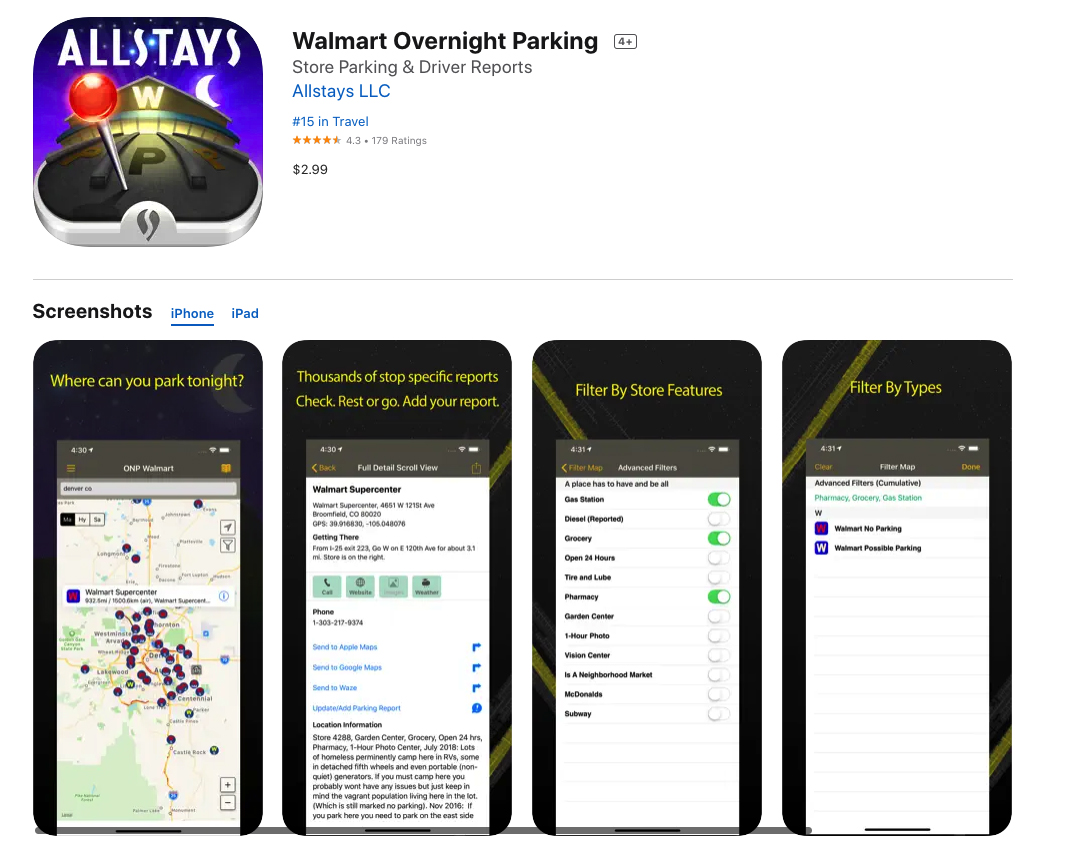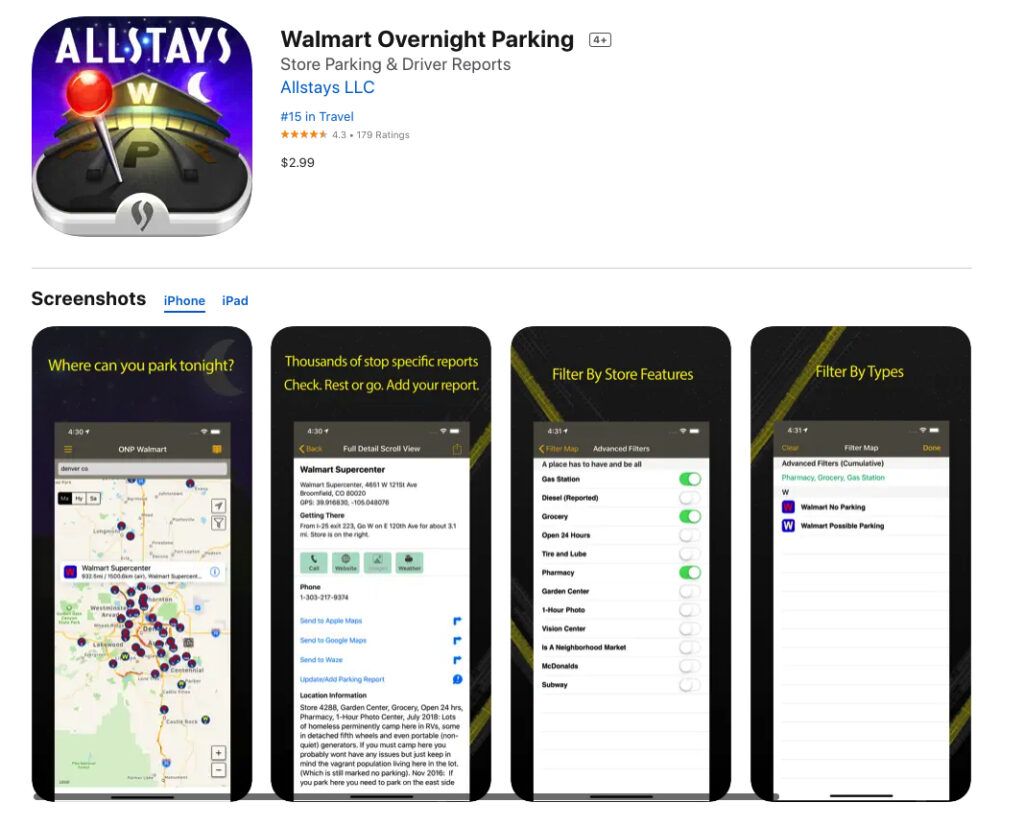 This is a great app when you need to dry camp someplace for one night and get back on the road in the morning. And yes, you can ask to park at a Lowes, or Home Depot, or any big box store but Walmart is so handy because you can do your quick shopping for most anything right there. One time we picked up one of those roast chickens and a salad and had an easy, low cost, and pretty tasty dinner.
RVParking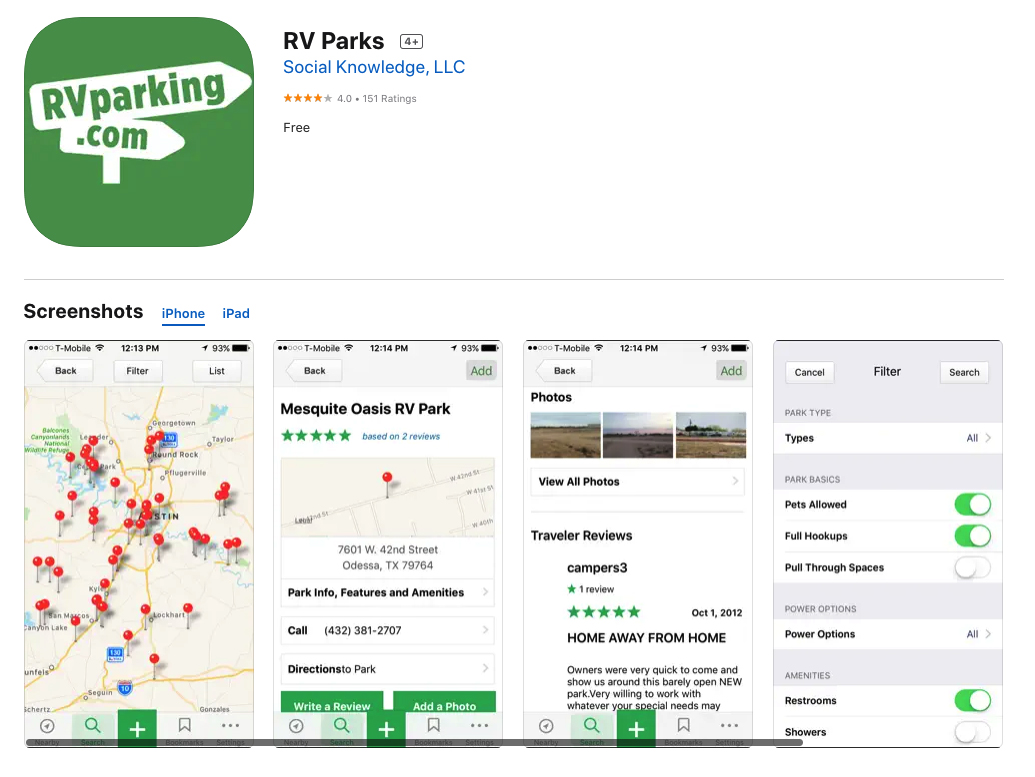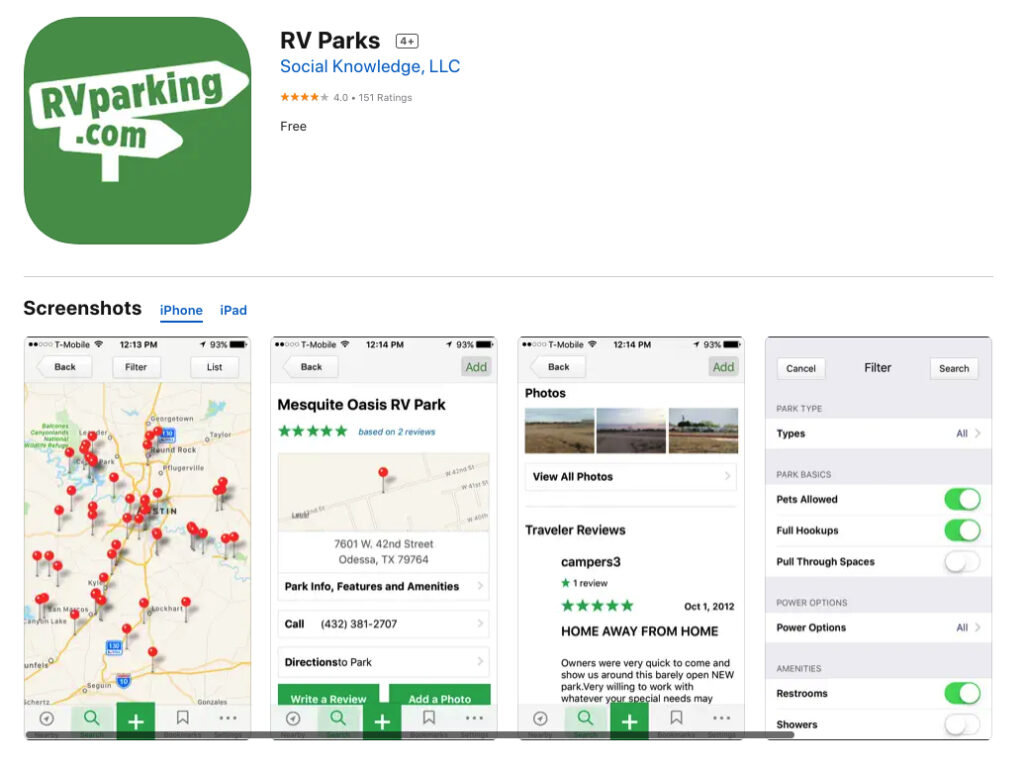 This website RVParking.com is good to find a campground, but you can also get their free app for your phone or tablet. Go to their website and see the info the app can give you. It is really helpful!
KOA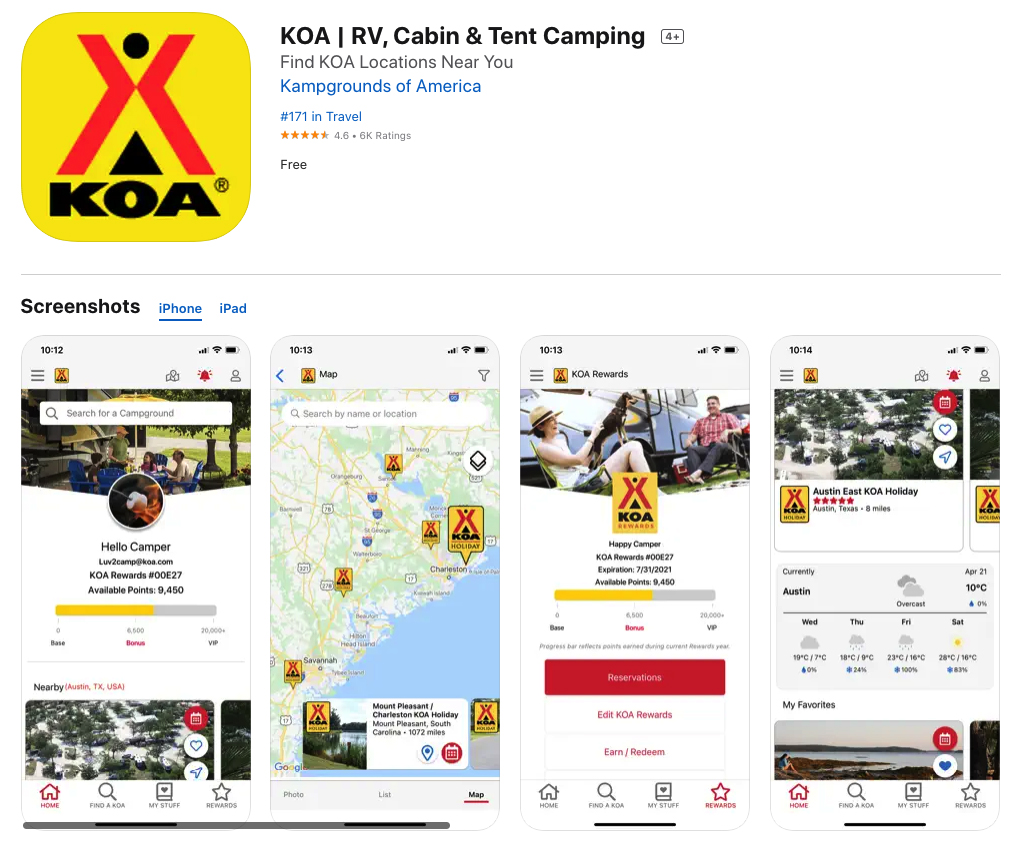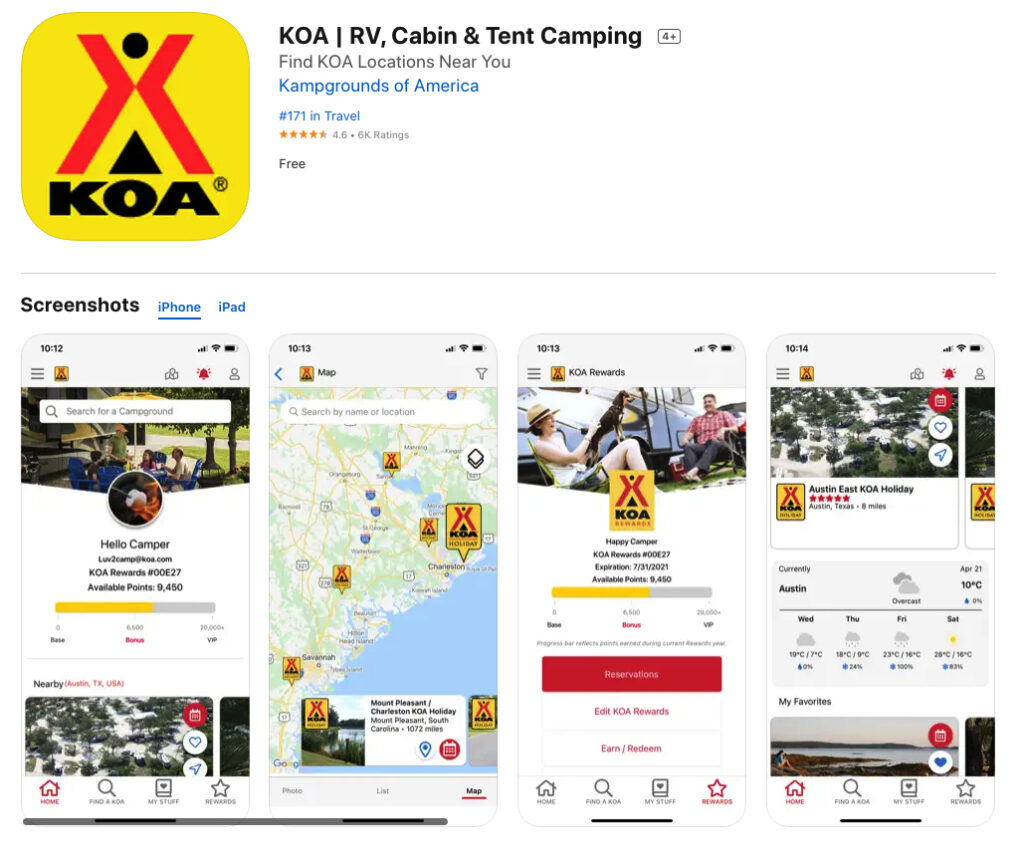 If you are a KOA member, you can get a 10% discount on their campground fees as well. KOA tends to be a little more pricey, but most of them do offer more family-oriented fun if you plan on staying for a few days. They also offer an app for finding one of their campgrounds.