Last updated: 22 Jun 2022
You never know when someone you meet will inspire you. I have had the opportunity to meet two such bike travelers.
On a previous trip to Quartzsite, I met a young woman who traveled from Minnesota to Arizona on her bicycle selling her handmade copper bracelets. She inspired me to follow my dream of embracing the open road, to live without fear or regret, and to welcome the joys and challenges of my decision.
When I met Sara, she was working on a bracelet and had a few completed ones laid out on a cloth covering her bike trailer. The trailer was fashioned from a plastic tote mounted onto wheels with metal ribs to attach to the back wheel of the bike.
I admired her work and struck up a conversation about her bike travels. It was fascinating to imagine how someone could have everything they need for a cross-country trip in one tote, including what is necessary to make a living.
Sara carried a teepee tent and a tiny stove that burned twigs for cooking her meals. She cooked oatmeal in the morning and a rice/grain dish with vegetables in the evening. When she sold a bracelet ($15) the money was enough to live on for several days.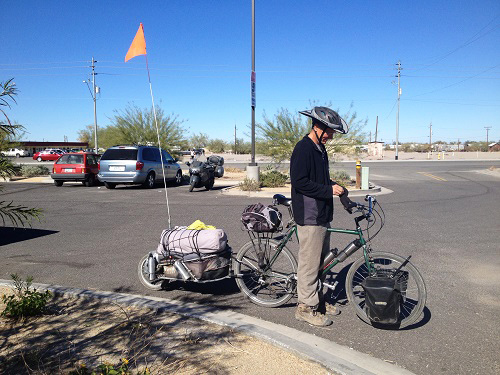 The most striking aspect of Sara was her pure joy in life. She lived in the moment and possessed a gentle spirit. Every time I wear the bracelet she made, I remind myself to enjoy today and to strive for simplicity.
On my present trip to Quartzsite, I met another inspirational bike traveler, Tom. He has been traveling by bicycle for two years and said it was the best decision he ever made.
His stress levels disappeared along with 50 pounds of weight. Tom also carries everything he needs in a handmade bike trailer. He was planning a trip to Tahoe and I asked, "On the bike?" He smiled and said, "Of course." Simple as that.
As you know, I live in an RV and have simplified my life down to what fits in my Toyota FJ Cruiser and the trailer, but I still have things I probably do not need. Those things will find their way into charity bins along the roads I travel.
As we lessen our need for stuff, we enlarge our capacity for everything else. There is a beauty in living lightly both in terms of material things and philosophically whether we travel by bicycle or RV.