Last updated: 30 Apr 2023
Windshield Drapes
As with most motorhomes, our RV curtains are wrap-around windshield drapes that provide privacy. They are mainly used at night. There are two 12'9″ wide panels, 41″ long which meet at the middle of the windshield. The drapes are beige with 8″ wide pleats. Standard drapery pins go into the pleats. Then, the pins are inserted into drape carriers/rollers which ride in the I-beam track. The drapes, themselves, have not caused any problems but there is a pesky leak on the driver's side (which happens only in torrential downpours) and has twice left ugly yellow streaks on the RV curtains.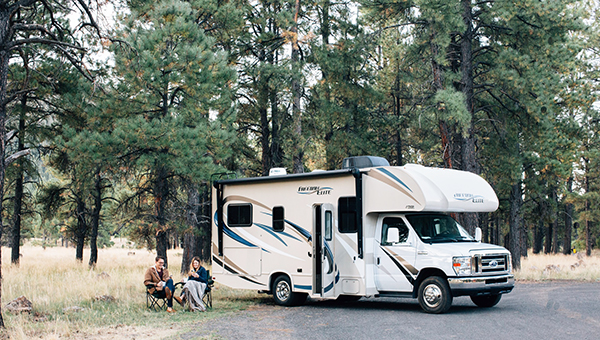 Although the motorhome owner's manual says 'dry clean only' and has warnings about shrinking and fading, my wife has had success using a washing machine on a permanent press cycle, dryer on low heat, and ironing by hand (this is not a recommendation – your mileage may vary). We checked with dry cleaners and they charged $1.75 per pleat and with 34 pleats, it would be about $60 plus tax to have the RV curtains professionally cleaned. If your draperies needed replacing, Camping World sells stock lengths of 32″, 36″, and 48″ in widths of 130″ to 240″ at prices from $110 to $155. These drapes are like house ones. I'd estimate it would cost $200-300 to replace our RV curtains.
Day/Night Shades
As first-time buyers, we were impressed with the clever design of day/nightshades. They have 3 modes – open, translucent, and opaque. We have 8 of these shades in our house, from 17″ to 51″ wide. The key to the operation of these shades is the strings. Some have 2 strings and wider ones have 4. Everything is wonderful until one of these strings break. After breaking, the shades become lopsided and do not stay in place or operate properly.
Broken Strings
Some of our shades were made with strings that were too thin and broke. To their credit, Tiffin Motorhomes has a great shade repair policy for their customers – you send in the broken shade and they will repair and ship it back to you at no cost. Or, if you are visiting the factory, they will do it there. Adventurous RV owners may decide to fix the shades themselves with a kit. It's possible but requires time and patience. One of the sites selling kits estimates it will take 2 hours for a 2 string blind and 2 1/2 hours for a 4 string.
People have been known to try the repair, become frustrated, then send it out to repair service. To repair a broken string, you must first take down the blind. The blinds are covered by a valance and it is a tight situation for fingers, making things difficult. Often, it's easiest to take the valance down first. This is another challenge as you must locate and remove the valance screws. They normally are fastened right into the cabinet above them. The screws may have a phillips, star, or square head.
Cockeyed Shades
If your RV window shades are crooked, the issue may not be with the strings but with the spools or cord retainers. The spools are attached to the vertical arms (lambrequins) that come down from the valances. To adjust the string tension, loosen the screw on the spool and add or remove one winding of the string. This should help straighten out your RV shades.