Last updated: 30 Apr 2023
Traveling in an RV is the best way to see all the seasonal attractions, whether it's observing fall foliage, attending winter festivals, enjoying spring outings, or visiting summer beach destinations.
Chincoteague Island, Virginia
One of the most beautiful scenic destinations in the quaint town of Chincoteague along Virginia's eastern coast. From interesting shops to fresh seafood, the cozy town is a picturesque step back in time with a relaxed and serene atmosphere. Chincoteague Island is well-known for its long expanse of ocean shoreline, abundant aquatic and aerial wildlife, and its herd of wild horses that roam freely in protected areas. Assateague Island in Maryland and divided from Chincoteague by a wire fence has another herd of wild ponies.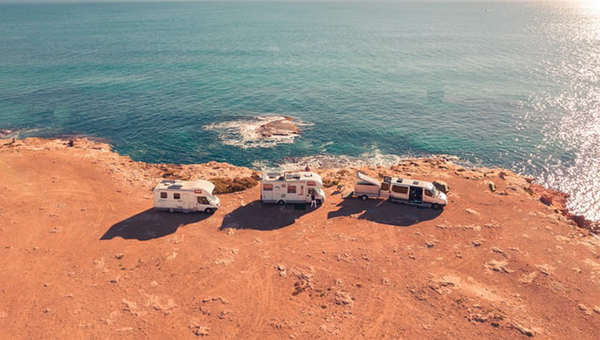 During the spring, the 35th Annual Easter Decoy & Art Festival takes place in April. In July, the 89th annual Pony Swim takes place drawing thousands to watch the wild ponies from Assateague Island make the swim to Chincoteague guided by the Saltwater Cowboys for the traditional pony auction.
During October, visitors relish fresh seafood at the annual Chincoteague Island Oyster Festival. Several RV campgrounds in Chincoteague include Tom's Cove Park, Pine Grove Campground and Waterfowl Park, and Maddox Family Campground. Each has full hookups.
Kancamagus Scenic Highway, New Hampshire
Relax and enjoy the ride along this scenic highway that takes you through the White Mountain National Forest. The 34.5-mile highway has the designation as an American Scenic Byway because of its long history and for its stunning views especially the brilliantly colored leaves and fragrant scents during the fall season. Along the highway, there are numerous hiking opportunities and you can get plenty of pictures of the Sabbaday Falls, Rocky Gorge, Lower Falls, and the White Mountains.
There are six campgrounds along the highway. Several accept RV's and provide bathrooms, showers, freshwater, and picnic table but none of the campgrounds has water, sewer, or electric hookups. Some campgrounds are only open mid-May through mid-October and some allow winter camping.