Last updated: 31 May 2022
When East Coast contra dance friends told me "You'll see familiar faces in your travels" I knew I'd run into familiar callers and bands, as they travel far and wide. But dancers? No way, I thought. The distance is too great. So imagine my surprise when I ran into familiar faces my first time at the twice monthly Friday night CFOOTMAD dance in Denver. I first recognized Roxanne, a vivacious dancer I'd first met in Jonesborough, TN.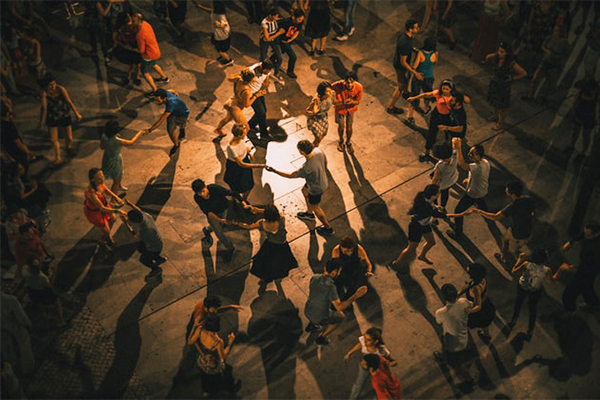 Then her boyfriend, Roger, whom I met 5 years ago when we stayed at the same host's home for Gypsy Meltdown in Charlotte, NC. Then a man recognized me from my dancing days at the Grey Eagle in Asheville, NC. Lastly, a man asked me to dance, asked where I was from, then queried "Have you ever danced at Sautee?" I pointed to my name button with the small print from the Sautee Nacoochee dance group. Turns out his cousin, Ron, and Ron's wife Nancy, are good buddies from that area. And he knew my friends, Bob and Janine, and had toured their castle. What a small world!
I was quickly welcomed into the fold and started the night at the Intermediate Dance Lesson at 7:30 pm upstairs at the Masonic Temple on N Federal Ave. Rick Smith schooled us in advanced moves like Box Circulate, Clover Leaf, and Right & Left Through on the Diagonal. Downstairs, beginners had their lesson in basic dance moves. The ballroom was spacious, well lit, and had a smooth wooden dance floor. There were equal numbers of men and women, and everyone was friendly. It was so easy to get in the groove!
The three-piece band was named Swing Time and featured keyboards, clarinet, flute, and other instruments. Their swing sound was up tempo and had toes tapping, even if you were waiting to jump back into the dance. Helle Hill, our caller, introduced herself to the group as Royalty and donned her plastic tiara. She reminded me of Glenda, the Good Witch, and her good-natured spirit rubbed off on the group. It was a fun and light-hearted evening of dancing.
CFOOTMAD also hosts an advanced dance called Zesty on the second Saturday of the month at Scheitler Center. Many folks travel to Boulder for a Friday night dance as well. You never know who you'll bump into!