Last updated: 5 Jan 2022
It's been years since I've danced at River Falls Lodge but heard about a great band called Frequent Flyers that hails from Oregon, Vermont, and Massachusetts via social media and decided to make the two-hour trek from where I was staying to take in the Friday night advanced dance. River Falls Lodge is known for its open-air structure.
Screened walls keep the bugs out, and fans keep the air flowing. Outdoors is a concrete-floored patio for cooling off during sets and no-frills restrooms. Water fountains are lined up outdoors, near the patio.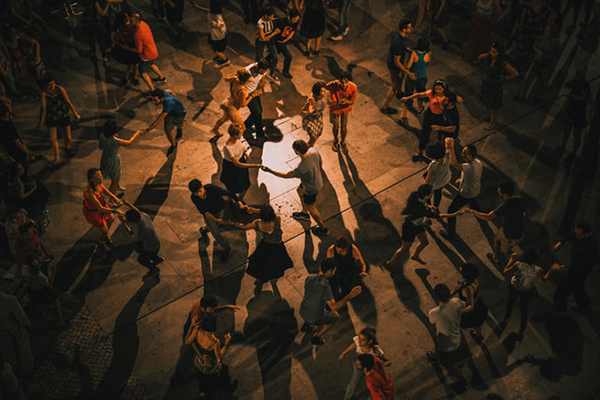 Got there a bit early, despite the last-minute detour because a bridge was out that took me at least 5 miles out of the way before curving back to River Falls Road. There was a surprise along the way, though, as the biggest, blackest bear I have ever seen crossed the road about 20 yards in front of me, and paused, looking right at me for 5-10 seconds. It was one of those "hold your breath" moments.
The band was just as great in warm-ups as they were throughout the dance – energetic, traditional contra tunes played on dual fiddles, guitar, and keyboards. Andrea Nettleton was the caller and did a super job combining three fast-flowing dances during the first number.
Her calling style seems to be better well-suited to advanced dances than some of the basic dances I've been at in the past. The dances she called throughout the evening were fun, fast, and tricky enough designed to keep even advanced dancers on their toes.
Surprisingly, only about 60 dancers showed up for this dance, most of whom I had crossed paths with at contra dances up and down the East coast. After seeking a partner but sitting out two in a row after the break, I left as the third number began.
Not disappointed, but satisfied. River Falls Lodge remains a quaint, quirky, quietly unimposing dance hall out in the middle of nowhere, but worth the drive.