Last updated: 31 May 2022
Had one of the best dance experiences in my 15 or so years of contra dancing on the 4th of July. David Wiley, the founder & chief organizer of the Historic Jonesborough Dance Society in the Blue Ridge Mountain area of Northeast Tennessee, regularly coordinates Saturday night dances and dance weekends held at the Jonesborough Visitor Center.
A few years ago, David built an exquisite open-air dance pavilion on his land outside the small town. While I had danced with this group for several years, this time I was a visiting Dance Gypsy and had yet to see the Serenity Knoll pavilion for myself.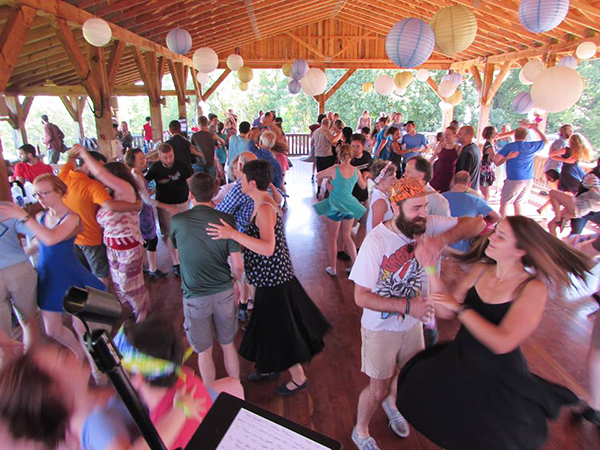 My evening started with a surprise – David placed a request via Facebook for someone to give a ride to a young student staying at ETSU. It was on my way, so I volunteered to pick up Rachelanne Weiss on campus. Turns out this brave and brainy 23-year-old has just graduated college with an English degree and was here from CA for a one-week storytelling course. Her goal is to write creative fiction and become a storyteller.
Despite the 30 year age gap, we were like-minded travelers, easy confidants, and up for an adventure. There was no way we could pass through Jonesborough, home to the International Storytelling Center, without a visit. She gamely posed for a photo in front of the quit featuring names of past storytellers.
Driving to Serenity Knoll, we were soon out of the town and into the rural countryside, passing fields of cattle and freshly rolled hay bales. The helpful parking attendant pointed us to a spot on the bottom lawn, and we hiked up past the main house to the dance pavilion. The view of distant mountain ranges was exquisite, and the smoothly polished wood floor would easily accommodate100 dancers.
David and his helper(s) have recently started selling freshly picked produce at area farmer's markets, and I had bought a handful of healthy kale that morning. It was cool to see where it had been harvested from early that same day. With the rare combination of dreamer and doer, David plans to build a commercial kitchen next to the pavilion, start farm-to-table dinners, and conduct educational programs in gardening and other topics.
Following a huge potluck meal of mostly fresh grains and vegetable dishes, Rachelanne and I headed for the dance floor and were quickly swept off our feet to the sounds of Chad Beauchaine and Joseph Sobol (this guitar/sitar player also heads up the Storytelling program at ETSU).
The female instructor of the course Rachelanne was taking was also there to dance, and would be back in a few nights to lead a storytelling event. I just love the combination of cultures that blend so easily in this region – dancers, callers, musicians, storytellers, and lovers of all things local come together to be in community with one another and share their passions.
This dance was called by Mark Langner, who receives my highest compliment – his calling was so clear and unobtrusive that I forget he was there. Later in the evening, Emily Rush led a fast-paced techno contra event called Rushfest, set to prerecorded dance music cued up on her Mac, and colored by flashing disco lights and glow stick accouterments for all.
As the fireworks started after sundown, we were treated to a view of the big fireworks display happening down in the valley in Jonesborough, along with two or three smaller displays on either side of the big boys.
While we were too far away to hear the bangs and whistles from the fireworks, never before have I viewed so many spectacles at the same time, accompanied by the folk music of the mountains in the background. It was a fabulous way to celebrate our freedom as a nation and as individuals, and a night to remember!