Last updated: 29 Apr 2023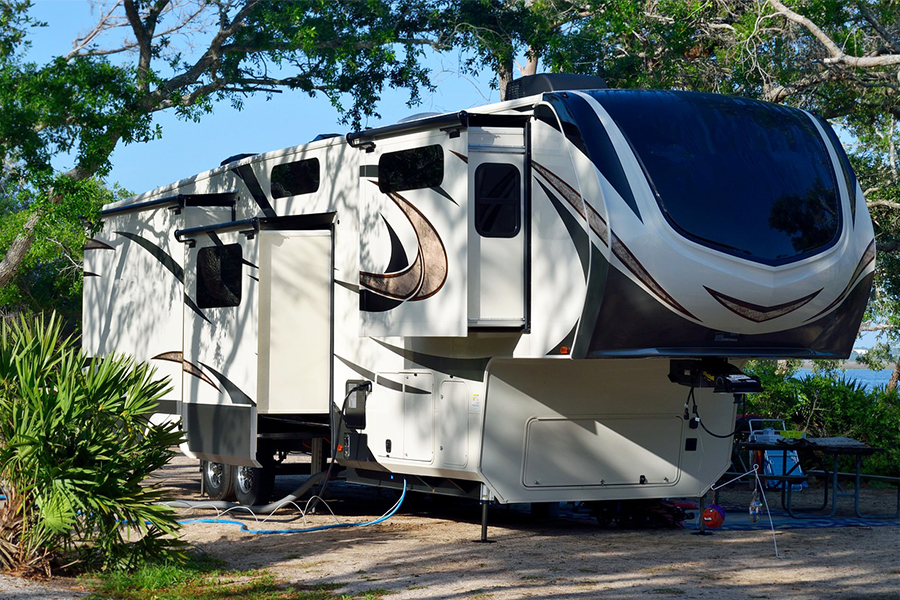 We all know that one of the least fun parts of RV ownership is having to deal with the sewer hose. But we also know that it is a necessary evil, and if we don't take care of it, it can cause some serious problems.
So, are you wondering how to clean your RV sewer hose? Luckily, it's not as difficult as you might think. With a little bit of knowledge and the right tools, you can easily keep your RV sewer hose clean and free of any buildup or clogs. But before going towards the steps of cleaning the hose, you need some tools for this. Let's find out what kind of things you need to clean the hose.
What Will You Need?
Maintaining a clean black water holding tank is crucial to prevent unpleasant odors from spreading in your RV. Regular cleaning also helps to prevent the growth of harmful bacteria inside the tank, ensuring a safe and healthy environment for you and your family.
To preserve the efficiency of your drainage system, you must clean the holding tank. Failure to clean the black water tank might result in operational issues and potential maintenance costs.
First, you must acknowledge that draining your black water tank is a simple chore. The second needed piece of information is that the operation is quick.

So, for cleaning your hose you need some tools so that you can find this process easy:
Chemical protecting gloves
Dish Soap
Cleaner (you can make it with warm water and dish soap)
Small brush or toothpick
Scrub or soft cloth
Steps of Cleaning an RV Sewer Hose
If you're planning a vacation in your RV, don't forget to clean your sewer hose. Neglecting to do so could result in a serious clog and even cause your black water tank to overflow. Keeping your black water holding tank clean not only prevents hazardous odors but also reduces the growth of harmful bacteria within the tank. So, make sure to add RV sewer hose cleaning to your pre-trip checklist to ensure a hassle-free and enjoyable vacation.
That's why it's important to clean your hose before each trip. Luckily, it's not difficult to do. It's a pretty simple process. Here I want to thank "RANDOMFIX" for the video demonstration.
The first thing you need to do is identify where your RV sewer hose is located. In most cases, it will be located near the sewer outlet on the side of your RV. Once you've found it, you'll need to remove the cap and set it aside.
After inspecting the sewer hose, check for any buildup or clogs that may be present. If there is any debris or buildup, use a small brush or toothpick to loosen it up and then flush it away with water. This will help prevent any potential clogs from occurring in the future.
Once the build-up and clogs are gone, you can start the cleaning process. The first step is to mix a solution of warm water and dish soap. This will help to break down any grease or grime that may be clinging to the hose.
Once the soap solution is mixed, use a sponge or soft cloth to scrub the entire length of the hose. Be sure to pay special attention to any areas that seem especially dirty. After scrubbing, rinse the hose off with clean water.
Now that the hose is clean, you'll need to disinfect it. The best way to do this is to mix together a solution of one part bleach to ten parts of water. Using a clean sponge or cloth, wipe down the entire length of the hose with this solution.
After cleaning the hose, it is essential to let it air dry completely before replacing the cap. This ensures that any remaining moisture evaporates, preventing the growth of mold or mildew inside the hose. Once the hose is dry, it can be safely used again.
FAQ
Do you really need RV sewer hose support?
When staying at a campground that provides full connections, it is in your best interest to ensure that your recreational vehicle is equipped with sewer hose support. A sewer hose support for recreational vehicles lifts the hose off the ground and guides it downwards into the drain.
Are all RV sewer hoses the same size?
The diameter of the standard RV sewer hose is 3.12 inches (7.62 centimeters), and it is equipped with bayonet couplings and fittings on both ends. Unfortunately, not all RV hoses have the capacity to properly drain gray water.
To connect a hose that has a diameter of 3 inches (7.62 centimeters) to a PVC pipe that has a diameter of 4 inches (101.6 millimeters), you will need a sewage hose adapter (10.16 centimeters).
How many RV hoses do I need?
The majority of people who travel in mobile RVs will require two water hoses: one for drinking water and a second for washing dishes and generally cleaning up after themselves. Utilizing the same water line to dump and refill holding tanks is an extremely unclean practice that should be avoided at all costs.
Summary
It's that easy! By following these simple steps, you can prevent a nasty clog in your black water tank. So, don't wait until your next trip to clean your RV sewer hose. Do it now and be prepared for a summer of fun. This concludes the RV sewer hose cleaning process.
Feel free to leave your thoughts in the comments section below if you found this tutorial helpful. It would be a pleasure for me to hear your feedback.
Also Read:
The Best RV Sewer Hose for All Climate Types. Camco vs Tford vs Valterra